The Winnipeg Jets have signed their backup goaltender, inking Laurent Brossoit to a one-year deal worth $1.5MM. Brossoit was scheduled to become an unrestricted free agent next week.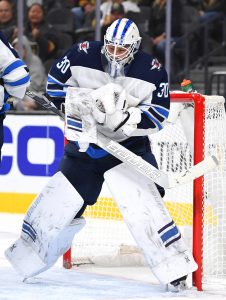 There's never a lot to do when you're the backup to Connor Hellebuyck, the league-leader in goaltender games played two of the last three seasons. The Jets obviously like Brossoit in that role, deciding to bring him back even before seeing what is truly available on the free agent market. The question is, why exactly?
There's no doubt that Brossoit can hold his own at the NHL level. He posted a .925 save percentage in 21 games for the Jets in 2018-19 and put up a record of 13-6-2. But in 2019-20 he reverted to the goaltender who struggled for the Edmonton Oilers, posting just an .895 save percentage and 6-7-1 record in 19 appearances. Those aren't exactly inspiring numbers for a team that expects to challenge deep into the playoffs, and certainly don't stand up to some of the other backups that will hit the market in the coming days.
Sure, Brossoit comes at a reasonably low price for a team that has trouble staring them right in the face, but it's actually a raise on the $1.225MM he earned last season in spite of his poor performance. Obviously, the comfort level with Brossoit is worth a lot to the Jets, but with the compressed schedule expected next season, it puts even more pressure on him to have a bounce-back campaign.
Darren Dreger of TSN broke the news on Twitter.