Over the next few weeks we will be breaking down each team's situation as it pertains to the 2017 NHL Expansion Draft. Which players are eligible, and which will likely warrant protection or may be on the block. Each team is required to submit their protection lists by 4pm CDT on June 17th. The full rules on eligibility can be found here, and CapFriendly has provided a handy expansion tool to make your own lists.
After a decade out of the playoffs, the Edmonton Oilers rebounded in a big way with over 100 points and making it to Game 7 of the second round. Connor McDavid lead the NHL in scoring, while Cam Talbot lead all goaltenders with 73 games played. Leon Draisaitl finished top-ten in scoring and cemented his place as the best Oilers forward in the non-McDavid category.
The Oilers made one of the biggest moves of the off-season, trading superstar forward Taylor Hall to New Jersey for Adam Larsson, who played a big role in solidifying the team's defence. Late off-season free agent signing Kris Russell played top-four minutes. Mid-season, GM Peter Chiarelli traded Brandon Davidson to Montreal for diminutive center David Desharnais.
Their success this season proved to management that their Stanley Cup window is one or two moves away from being a legitimate contender. With one season until McDavid's upcoming big contract enters the picture, Chiarelli has some freedom to go for it. The expansion draft may create an opportunity to acquire a big name. Here's a closer look at their situation:
Eligible Players (Non-UFA)
Forwards:
Leon Draisaitl, Jordan Eberle, Zack Kassian, Jujhar Khaira, Mark Letestu, Milan Lucic (NMC), Patrick Maroon, Ryan Nugent-Hopkins, Iiro Pakarinen, Zach Pochiro, Benoit Pouliot, Henrik Samuelsson
Defense:
Mark Fayne, Oscar Klefbom, Adam Larsson, David Musil, Griffin Reinhart, Andrej Sekera (NMC), Dillon Simpson
Goalies:
Laurent Brossoit, Cam Talbot (NMC)
Notable Exemptions
F Connor McDavid, F Jesse Puljujärvi, F Drake Caggiula, F Anton Slepyshev, D Matt Benning, D Darnell Nurse
Key Decisions
The Oilers only have one decision to make ahead of expansion. It helps tremendously that their superstar captain, three highly-touted forward prospects, and two future top-four defensemen are all exempt. The Oilers will go the 7-3-1 route.
Heading into the trade deadline, it appeared that the Oilers would lose the emerging Davidson to Vegas. The Oilers have Oscar Klefbom, Larsson, and Andrej Sekera for the three defensemen protection slots. With that in mind, Chiarelli traded Davidson to Montreal for Desharnais. The trade didn't necessarily work out for the Oilers, with Desharnais not being able to solidify the Oilers' third line and injuries piling up on Edmonton's blue line at the end of their series against Anaheim.
Trading Davidson also means that the Oilers are going to lose someone else.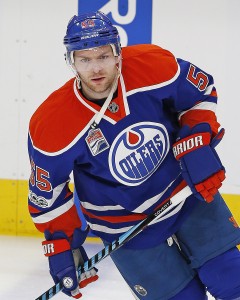 The major choice the Oilers have to make is between Jujhar Khaira and Mark Letestu. The veteran Letestu has one year remaining at $1.8MM. He had 35 points, including 11 power-play goals, after overtaking Jordan Eberle as the right-shot option on the Oilers' number one power-play unit. However, he's also a 32-year-old fourth line center coming off high highest point-total in four seasons and a UFA next summer. In 2015-16, Letestu struggled when thrust onto the Oilers' third line. The Golden Knights are not likely to have sufficient center depth to cover for Letestu at 5-on-5, so they're liable to look elsewhere.
They may look no further than Khaira, who is just beginning his NHL career. He scored one goal in 10 NHL games last season before suffering an injury. He also had 20 points in 27 AHL games, showing offensive potential enough to one day develop into a third line checking center. Khaira is the kind of young talent that Vegas could look for instead of a 30-something bottom-six forward like Letestu.
Other possible selections include Laurent Brossoit, Griffin Reinhart, and Benoit Pouliot. All five of the above mentioned Oilers are waiver-eligible, meaning there's no added benefit to taking one of the younger players. It shouldn't have to be mentioned, but there's no way the Oilers expose Eberle. Despite his down year, Eberle was still a top-60 scoring winger in the NHL and that is far too valuable to flush for one season of a down shooting percentage.
While the market is flush with goaltenders, Brossoit could be an interesting option as the Golden Knights' backup for their inaugural season. GM George McPhee could select several options for the starting job and then trade them to teams needing help in the blue paint and use Brossoit as the backup. The young goaltender has played very well at every level, from leading the Edmonton Oil Kings to a Memorial Cup-berth, to successful years starting in the ECHL and AHL, and a good run as the Oilers' backup during the second half of last season.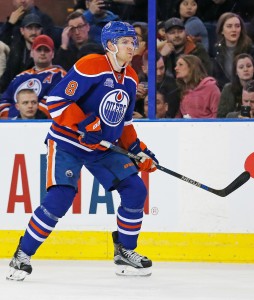 McPhee is willing to take on bad contracts, if the price is right. Pouliot could be one of those redemption options. After several years as a middle-six forward with good analytics, aggressive play, and solid penalty killing, Pouliot fell off the map in 2016-17. He had just 14 points in 67 games and zero points in the playoffs. At $4MM, he's too expensive to spend two more seasons in Edmonton as McDavid and Draisaitl move on from their entry-level deals. But on an expansion team, he could return to a top-nine role and return to the mid-30 point range that he's hit so consistently before.
The likeliest selection is Reinhart. The 2012 4th-overall pick has developed slower than expected, but by several accounts was the best defenseman on the Oilers' AHL team last season. While he'll never live up to the expectations that come with his draft position (one slot ahead of Morgan Rielly and two ahead of Hampus Lindholm), Reinhart can still become a dependable fifth defenseman who excels on the penalty kill. That has value, and his draft pedigree suggests there's a player there.
With all that in mind, the Oilers would be better-served offering up Letestu instead of Khaira. Of course, Chiarelli may decide to hold on to the player who has proven he can score 30-plus points and play well on special teams, instead of a player who may be that in the future.
Projected Protection List
F Leon Draisaitl
F Jordan Eberle
F Zack Kassian
F Jujhar Khaira
F Milan Lucic (NMC)
F Patrick Maroon
F Ryan Nugent-Hopkins
D Oscar Klefbom
D Adam Larsson
D Andrej Sekera (NMC)
G Cam Talbot (NMC)
Out of the unprotected players, Reinhart has the best pedigree and is young enough to still develop into a legitimate top-six defenseman. Khaira and Brossoit also have NHL-potential, and should be options for Vegas. Chiarelli and McPhee could also work out a trade where Vegas take an expensive player like Pouliot or Mark Fayne in exchange for a prospect or pick, but that's far from guaranteed. As a future division rival, McPhee may not be inclined to help out Edmonton for less than a high pick or top prospect. Between Pouliot, Iiro Pakarinen, Fayne, and Brossoit, the Oilers meet the exposure requirements. At his year-end availability, Chiarelli told reporters that the Oilers were going to lose someone that they would rather keep. However, the Oilers situation is far better than most teams; the most likely options are their backup goaltender, fourth line center, or an AHL defenseman.
Photos courtesy of USA Today Sports Images