Free agency is now a little less than a month away from opening up and there are quite a few prominent players set to hit the open market while many teams have key restricted free agents to re-sign.  Here is a breakdown of New York's free agent situation.
Key Restricted Free Agents: F Brock Nelson – Though all eyes in New York are watching a certain unrestricted free agent (we'll get to that later), the team still has plenty of work to do with some of their restricted players this summer. One of those is Nelson, who while frustratingly inconsistent at times still has four straight seasons with at least 19 goals.
It's not that Nelson is an integral offensive piece on a team that has plenty of weapons up front, but scoring goals in the NHL is a daunting task and those who can do it at both even-strength and on the powerplay aren't that easy to find. For any team, secondary scoring threats like Nelson get paid exceptionally well and are a tough group to hold on to long-term. Even with his slightly reduced totals this season, he's still heading into the summer in a strong negotiating position as this is his final year before qualifying for UFA status. That means any term the Islanders give is buying out UFA years and sending the average annual value of the contract skyrocketing.
D Ryan Pulock – It's not just up front that the team has some tough decisions, as Pulock broke out this season and could be looking for a long-term deal. The 23-year old defenseman finally got his full-time chance in the NHL and crushed it with 32 points in 68 games. That came with the best possession stats of any defenseman on the team, while still taking his fair share of defensive responsibilities.
Pulock is only now coming off his entry-level contract and is not yet eligible for salary arbitration, meaning the Islanders could certainly wait to lock him up long-term. That said, he's so clearly a part of their future on the blue line that the team may want to commit right away.
Other RFAs: F Ross Johnston, F Alan Quine, F Shane Prince, D Brandon Davidson, D Kyle Burroughs, F Kyle Schempp, D Devon Toews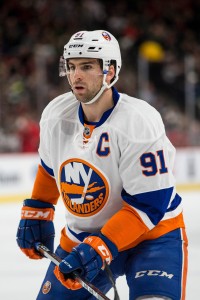 Key Unrestricted Free Agents: F John Tavares – It all starts and ends with Tavares, who is basically holding the free agent market hostage at the moment. Though John Carlson and others are fine prizes, no one is a franchise-changing player like Tavares in the prime of his career. The three-time 80-point man is coming off one of his most successful offensive seasons and he has proven time and again to be able to carry less talented wingers to big production.
Every team in the league would love to slide Tavares into their lineup, but it's still unclear how many would really be able to put together the kind of financial package to entice him. Even that's only if he ends up hitting the free agent market, something that may not even be likely at this point. Recently, when the Islanders fired their GM and head coach a new bout of speculation arose about Tavares' connection with the franchise and intention to stick around. No one—except perhaps Lou Lamoriello, who could keep a secret from his son if he needed to—knows exactly where Tavares is headed. We'll find out in just a few weeks.
D Calvin de Haan – Amazingly, Tavares isn't the only important free agent the Islanders have. Though they already locked up Josh Bailey, de Haan and Thomas Hickey represent a good portion of their defense corps that is currently scheduled for the free agent market. The Islanders struggled in part this season keeping the puck out of their own net because of injuries to de Haan, who played just 33 games in total.
The 27-year old defenseman has shown flashes of brilliance over the years, like when he suited up for Canada in the 2017 IIHF World Championship, but has struggled to put it all together and become the top-pairing defenseman the team once hoped for. He won't be paid like it this summer, but there will certainly be a market for him if he ends up leaving the Islanders.
Other UFAs: F Chris Wagner, F Nikolai Kulemin (headed to KHL), D Thomas Hickey, D Dennis Seidenberg, G Jaroslav Halak, D Kane Lafranchise, F Connor Jones, G Christopher Gibson, F Stephen Gionta, D Seth Helgeson, G Kristers Gudlevskis
Photo courtesy of USA Today Sports Images