Normally in the NHL, players aren't allowed to reach unrestricted free agency before they turn 27. Even then, most players end up trading away some of their free agent years for pay raises and long-term contract stability. Sometimes though, you end up with a player like Steven Stamkos who in the summer of 2016 was set to become a free agent at the age of 26.
Stamkos debuted in the league at such a young age because of his outstanding talent, that he had already accrued the necessary seven seasons in the league. He actually could have become a free agent in the summer of 2015 had he not signed a contract including the 2015-16 season several years earlier. Almost every star does this, as you can see around the league. Connor McDavid is already locked up until he's 29, signing away four years of free agency in his recent $100MM extension.
But, there is another way to hit free agency early and it's at the opposite end of the spectrum. Players that are stuck in the minors and never really given a chance to play in the NHL can become free agents at age-25, as Jordan Weal did this summer. Weal, who dominated for several years in the AHL without ever getting a full-time look in the NHL became a Group VI free agent this summer. To do so, he had to meet three requirements (via CapFriendly):
The player is 25 years or older (as of June 30th of the calendar year the contract is expiring).
The player has completed 3 or more professional seasons – qualified by 11 or more professional games (for an 18/19 year old player), or 1 or more professional games (for a player aged 20 or older). This can include NHL, minor league, and European professional league seasons played while under an SPC.
The player has played less than 80 NHL games, or 28 NHL games of 30 minutes or greater for a goaltender.
Every year there are several players who qualify as Group VI free agents, and 2018 will likely be no different. Here are a few notable candidates.
Mark McNeill – Dallas Stars – 2 GP
Dallas would have had to play McNeill all season long to break the 80-game threshold. The 18th-overall pick from 2011 has been dominant at times in the AHL, but was never given a chance in Chicago. Dealt last season in a move for Johnny Oduya, McNeill will hit free agency and could look for a brand new start somewhere else. Whether another opportunity will ever come in the NHL is a different story, as McNeill has fallen off the prospect map in recent years.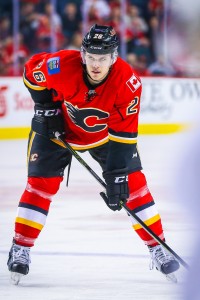 Tyler Wotherspoon – Calgary Flames – 30 GP
Wotherspoon was once considered a top prospect that looked like a lock for a long NHL career, but without showing any real top-four potential the excitement has died in recent years. The 14 games he played with the Flames when he was just 21 would end up being the most he would see in any single season so far, and he'd need to jump into the lineup quite soon (and stick) to avoid being granted free agency this summer.
Josh Leivo – Toronto Maple Leafs – 43 GP
Leivo has once again been pulled from the Maple Leafs' lineup prior to their matchup against the Los Angeles Kings, a feeling he must be getting used to by now. He's never played in more than 13 games in a single season with the Maple Leafs, and would need to suit up for 47 more this season in order for the team to hold onto his rights. The third-round pick from 2011 has actually fared quite well in his sporadic games, recording 11 points in his last 15 contests.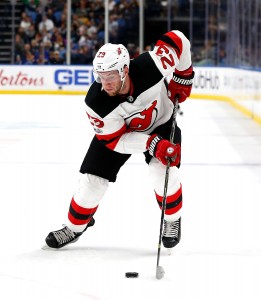 Stefan Noesen – New Jersey Devils – 53 GP
Noesen has been a solid player for the Devils since being selected off waivers from Anaheim last year, and has played 39 of his 53 games in that time. He isn't a full-time player for them though, and he was scratched on Wednesday when Brian Boyle returned to the lineup. The question will be can he get into another 27 games this season to crack that 80-game mark, or does the first-round pick—that once was a key part of getting Bobby Ryan to Ottawa—hit the open market this summer.
There are many, many more candidates for Group VI free agency and we'll be taking a look at some of the others throughout the season depending on how their season progresses. 
Photos courtesy of USA Today Sports Images