The Toronto Maple Leafs are one of the teams in the league who are almost always right up against the salary cap ceiling. With their tremendous financial backing from corporate ownership, and a rabid fan base that is hard to scare away with even the most futile rosters, they use their situation to get every advantage possible. With that in mind, they've previously completed moves that a less wealthy team would just not be able to—moving David Clarkson (who was healthy but ineffective at the time) for the injured Nathan Horton for instance.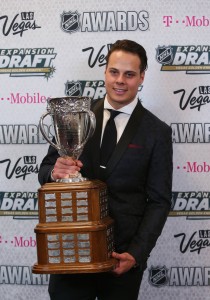 Last year brought the next wave of Maple Leafs stars, with rookies like Auston Matthews, Mitch Marner, William Nylander, Connor Brown and Nikita Zaitsev all finding great success as freshmen. While all of them were on inexpensive entry-level contracts, their excellent play earned them all hefty performance bonuses. Leading the way was Matthews, who earned $2.85MM thanks to his 40-goal performance. Chris Johnston of Sportsnet broke down the bonuses for the Maple Leafs, which totaled a whopping $5.37MM on the year, the second most of all-time.
Because the Maple Leafs were using long-term injured reserve (from the aforementioned Horton along with a few others) last season and were above the salary cap ceiling, that entire bonus pool of $5.37MM was applied to this year's salary cap as an overage. That hurts their ability to manipulate the cap, but not nearly as much as it could in the future.
The Maple Leafs are still in relative safety when it comes to the cap, with their stars still vastly underpaid and a pair of long-term injuries to use as a cushion of sorts. They were able to use some of that room to bring in Patrick Marleau and Ron Hainsey to augment the roster, while seeing almost their entire core return from last year. The problem arises when these entry-level contracts start to expire.
Much has been written over the past year on the Maple Leafs impending contract negotiations with Matthews, Nylander and Marner, but little of it has concerned the impact bonuses could still have. With the team again over the cap and using LTIR, any bonuses earned will again be carried over. With the roster they're currently carrying, there is the possibility for up to $6.25MM in bonuses, though it doesn't look early like they'll have to pay the maximum.
Matthews, with his explosive start looks like a good bet to max out at $2.85MM, though he'd have to finish in the top-10 in goals once again. He's currently tied for fourth, though obviously it is still early. Nylander and Marner each could earn up to $850K again.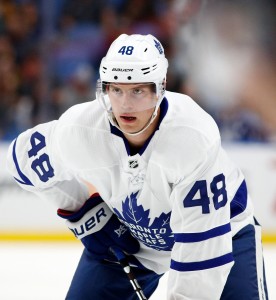 The two wildcards are Swedish defenders Andreas Borgman and Calle Rosen. The pair have rotated in and out of the lineup early on, and are generally limited to the bottom pairing. If that changes because of injury, or they show improved ability and force head coach Mike Babcock into giving them more minutes they too could each earn up to $850K.
While performance bonuses are never exactly a bad thing—they do after all reward success—the Maple Leafs don't want to have to deal with overages as they head into the next contracts for their big three. Though right now they project to have over $26MM in cap space for next season, that's not including Nylander's new deal or possible new contracts for James van Riemsdyk, Tyler Bozak or Leo Komarov. Hacking 20% off that amount with another $5MM bonus penalty will certainly hurt their ability to re-sign the pending unrestricted free agents, and push them even closer to the 2018-19 cap ceiling where they really need to be careful.
Obviously, the Maple Leafs are quite a distance away from being locked into any cap situation. But they have to be considering how to manage the cap for the 2019-20 season when the rest of the big three (Matthews and Marner) move onto their next contracts. That's not even considering a Jake Gardiner extension, as he's headed for UFA status in the summer of 2019 as well. When the Maple Leafs are spending next offseason, don't be surprised if they leave themselves a little bit of extra room to avoid an overage. If not, they could be putting themselves in a very tricky situation.
Photos courtesy of USA Today Sports Images