Jaroslav Halak has been on quite the journey since he led the Montreal Canadiens to back-to-back playoff upsets of the President's Trophy winning Washington Capitals and defending Stanley Cup champion Pittsburgh Penguins back in 2010. Halak was so effective in that run to the Conference Finals that many Canadiens fans wanted the team to keep him and trade his partner, Carey Price. Montreal opted to keep Price and shipped Halak to the St. Louis Blues for a package that included Lars Eller.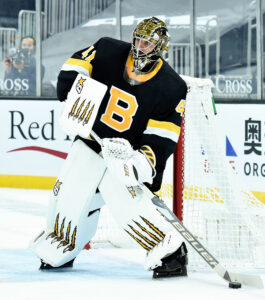 The early returns in St. Louis were good as Halak was solid in his first season with the Blues and even better in year two when he and Brian Elliott won the William M. Jennings Trophy for the fewest goals against in the league. That year Halak also garnered Vezina Trophy votes and ultimately finished sixth in voting as he sported a stellar .926 save percentage and a 1.97 goals-against average.
Eventually, the shine wore off in St. Louis and Halak lost the net to Elliot and was traded to the Washington Capitals midway through the 2013-14 campaign. He played well for the Capitals in limited action but the team ultimately missed the playoffs.
That summer, the Bratislava, Czechoslovakia native signed a four-year deal with the New York Islanders with an annual cap hit of $4.5M. The Islanders received excellent goaltending from Halak in his first season with the team as he went 38-17-4 with a .914 save percentage and a 2.43 goals-against average. In fact, through his first three years on Long Island Halak posted a save percentage above .910 every year, and kept his quality starts percentage over 50%, which means his save percentage was above the average more often than not.
It was in the final year of his contract with the Islanders that the cracks started to show in Halak's game as he struggled in 2017-18 and posted the worst numbers of his career up to that point with a .908 save percentage and a 3.19 goals-against average.
Understanding that his days as a starter were likely ending, Halak signed a two-year deal with the Boston Bruins to back-up Tuukka Rask. Halak ended up playing in almost half of Boston's games that year and outplayed Rask for large portions of the season in what was one of the best years of Halak's career as he went 22-11-4 with a save percentage of .922 and a goals-against average of 2.34. Halak would win another Jennings Trophy the following year posting a .919 save percentage in what was another fantastic campaign for the netminder. That season in Boston, the 2019-20 campaign is the last time that Halak has posted a save percentage over .910.
Since the 2019-20 season, Halak hasn't been able to be counted on to provide consistent play. Halak hasn't started more than 25 games in the past three seasons, and although that isn't entirely his fault thanks to injuries and a pandemic, he has been a tick below average when he has played.
At 38-years-old Halak and 17 seasons into his career, Halak has a lot of miles on his body, but he did indicate a month ago that he would like to continue playing. Halak reportedly talked about an extension with the New York Rangers prior to free agency, but ultimately the Rangers decided to sign Jonathan Quick to be their backup, which is a definite downgrade from Halak at this point. Halak needs just five wins to reach 300 and given his track record he should be presented soon with an opportunity to be a backup next season.
Stats
2022-23: 25 GP, 10-9-5, 2.72 GAA, .903 SV%, 1 SO
Career: 581 GP, 295-189-69, 2.50 GAA, .915 SV%, 53 SO 
Potential Suitors
At Halak's age he probably isn't looking to get pummeled with fifty shots every night which means we can likely filter out any rebuilding teams. At first glance, the New Jersey Devils and St. Louis Blues are two teams who have a need for depth in net.
The Devils are a team that feels like they are on the cusp of building something great, their defense is mobile and quick, they can push the pace and defend. Their forward group is skilled, fast, and comes at you in waves. But goaltending is their Achilles heel. The Devils have reportedly shown interest in several goaltending options including Connor Hellebuyck and John Gibson, but both of those goaltenders would require large commitments that the Devils might not want to make. But the Devils do need some help in the crease as they will once again enter this season relying on the tandem of Vitek Vanecek and Akira Schmid. Both goaltenders are relatively inexperienced, and while they backed the Devils to the second round of the playoffs last season, they might need an extra set of hands to get the club there again. Neither Schmid, nor Vanecek have a history of playing at a high level in the NHL for an extended period, which means that even a league-average goaltender like Halak could give a big boost to the team's depth chart and offer up a solution should either man falter.
For the St. Louis Blues, they've made some interesting moves over the past year but haven't done much to address their goaltending. It's fair to say that the Blues goaltending was porous last season. Jordan Binnington, now in the third year of a six-year $36MM contract, hasn't been good in two seasons posting a 45-41-10 regular season record, with a 3.24 goals-against average and a .897 SV%. If you take a deep dive into his numbers the picture gets even worse, in the last two seasons Binnington has posted a minus-26.6 GSAA, meaning that he gave up almost 27 goals more than the average NHL goalie would on the same number of shots. Couple this with St. Louis deciding to run with rookie Joel Hofer as a backup and you have a potential recipe for disaster for the Blues. No disrespect to Hofer, who had a terrific year with the Springfield Thunderbirds last season in the AHL, but he is inexperienced and is no guarantee to step up should Binnington falter for a third year in a row. Adding a netminder like Halak might give the Blues a good safety net in case one of their two goaltenders were to struggle or get hurt. He wouldn't cost anything in the way of assets and could give the Blues some peace of mind.
Projected Contract
A month ago, it seemed like a sure thing that Halak would get a one-year NHL deal for a bit over $1MM. Now a month into free agency, I'm not so sure. I think that barring an off-season training injury before training camps open, Halak will have to settle for a number three role on a team with good depth in net, or a PTO. The experienced veteran would provide a good fallback option in a pinch and can give guidance to younger goalies who might be ahead of him on the depth chart.
I'd be surprised at this point if Halak got over $1MM on his next contract, however, with that being said, injuries can create urgency quickly, especially in net. Halak could be the first netminder who gets a call from a team with thin goalie depth after they get stung by the injury bug. Even if this were to happen, Halak is like to end up with a six-figure deal.
Photo courtesy of USA Today Sports Images.