The setback that Christian Dvorak suffered recently is worse than originally thought, as the team announced that the young forward is out indefinitely following surgery. Dvorak tore his pectoral muscle during his rehab for another injury.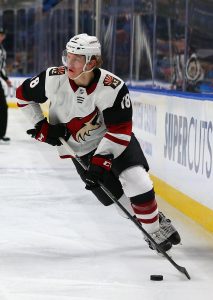 It's a huge blow for the Coyotes, who were already off to a rough start with only four even-strength goals and two wins in their first six games. Dvorak was supposed to be a key offensive player for the team after scoring 15 goals in each of his first two seasons, and was rewarded as such with a six-year, $26.7MM extension this summer. It doesn't look like that's going to be possible for quite some time, as the team couldn't even provide a timeline on his recovery. If this injury takes away the majority of the 2018-19 season, Dvorak will have a huge amount of pressure on him next season to perform, or make the contract look like a hugely premature move by the Coyotes front office.
The team will be getting Alex Galchenyuk back soon, giving them another weapon up front, but there's also the issue of who will play center for the team now. So far young Dylan Strome has been their most effective option in the faceoff circle, while Derek Stepan, Brad Richardson and Nick Cousins have filled the other three spots. Dvorak was supposed to knock one of those options out when he came back, but the team may now have to turn to Galchenyuk as an option to get more production from the middle. The former Montreal Canadiens forward has said he would rather play center, but it's still to be decided whether he can handle it in a full-time role. Clayton Keller and Vinnie Hinostroza also have some experience with the position, but have been more effective as wingers throughout their young careers.
Perhaps most unfortunate for the Coyotes is the waste of Dvorak's last inexpensive season, as his entry-level deal will expire even if he doesn't play in a single game. That $4.45MM cap hit is coming next season whether they like it or not, and though they're not a team that needs to worry about the salary cap, they do have an internal budget to work from.
Photo courtesy of USA Today Sports Images