The Montreal Canadiens have loaned four players to their AHL affiliate, the Laval Rocket, following yesterday's 7-1 loss to the Toronto Maple Leafs: Rafael Harvey-Pinard, Jesse Ylonen, Corey Schueneman, and Cayden Primeau.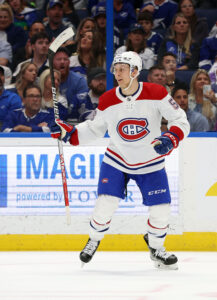 Schueneman and Primeau were each recalled yesterday, and the former skated just over 10 minutes in the Canadiens' contest yesterday.
The 27-year-old undrafted Western Michigan product has scored 21 points in 59 AHL games this season and is one of the Rocket's most important defenders.
Primeau, 23, backed up Sam Montembeault yesterday and has spent most of the season as Laval's number-one netminder. He's posted a .905 save percentage in 38 games and is hoping to lead the Rocket back to the Calder Cup playoffs, a tournament they made a deep run in last season.
The two more significant names to be sent down, though, are Ylonen and Harvey-Pinard since they have each made their mark on the Canadiens' NHL roster this season. Both players received NHL opportunities due to the significant injury issues that sprang up in Montreal, and both players have shown well in that opportunity.
Harvey-Pinard especially has made a name for himself, scoring 14 goals in 34 games, including a hat trick at the Bell Center. He's a 2019 seventh-round pick who went undrafted in two straight years before hearing his name called by his boyhood club. Harvey-Pinard's emergence as an NHL option comes after spending parts of the last three seasons in Laval, including last year where he led them in scoring with 56 points in 69 games.
While it might come as a surprise to many Canadiens fans to see Harvey-Pinard sent down after such a hot start to his NHL career, the circumstances Laval currently finds themselves in can serve as an explanation. The Rocket are just a point ahead of the Cleveland Monsters for the Northeast Division's final playoff spot, and the Monsters have a game in hand.
Laval has a crucial game against the Wilkes-Barre Scranton Penguins today, and perhaps the Canadiens organization deems allowing these players to play an important role in meaningful, late-season games to be a better developmental path than playing a few more potentially miserable NHL contests (like last night's game) to finish out a lost Canadiens season.
The same logic applies to Ylonen, a speedy 2018 second-round pick who has scored a healthy 16 points in 37 games during his time in Montreal. The 23-year-old has scored 29 points in 36 games at the AHL level and is in his final year of waiver exemption.
Since the Canadiens are unlikely to entertain the possibility of losing him on waivers next season, this reassignment gives Ylonen possibly one last opportunity to make an impact at the AHL level before beginning his NHL career in earnest in the fall.
Photos courtesy of USA Today Sports Images