The Toronto Maple Leafs have been rumored to be one of the teams considering a change in net this offseason, but when GM Kyle Dubas took the (virtual) podium today to speak with reporters he didn't seem interested in changing his starter. As Chris Johnston of Sportsnet tweets, Dubas explained that he expects Frederik Andersen to be the team's starting goaltender when the next season opens and has addressed the speculation directly with his netminder.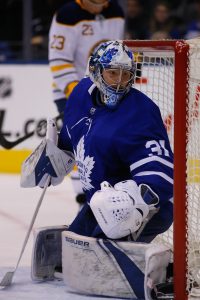 Just because Dubas says he expects Andersen to be in net, doesn't necessarily mean that the team didn't have talks with other teams. Specifically, discussions with the Carolina Hurricanes were widely reported to have included Andersen's name.
In a year where there are at least a dozen strong options available, it's hard to imagine there would be a huge market for Andersen, who has just one year remaining on his current contract. The Maple Leafs would also have needed a replacement unless they decided to give the starting role to Jack Campbell, something that seemed unlikely given his experience and the team's desire to compete for a Stanley Cup.
That contract of Andersen's is something to keep an eye on though as Toronto will need to make plans for the 2021-22 season at some point. Their top two goaltending prospects, Ian Scott and Joseph Woll are not ready for the NHL yet while an extension for Andersen would be pricey and risky given his age and inconsistency in the past. If the Maple Leafs have shut the door on a move this offseason, a window might have to be opened in the coming months.
Photo courtesy of USA Today Sports Images