The Nashville Predators have announced that forwards Michael McCarron and Kiefer Sherwood have been signed to one-year contract extensions. Though more extensive financial details on the contract were not included in the team announcement, it was revealed that their deals each carry a league-minimum $775k cap hit.
First up is McCarron, 28, who has been with the Predators organization since an early 2020 trade saw him dealt from the Montreal Canadiens in exchange for fellow 2013 draft choice Laurent Dauphin. This season, he split time between Nashville and their AHL affiliate, the Milwaukee Admirals. He scored six points in 16 AHL contests and notched four points in 32 NHL games.
McCarron's 2022-23 campaign took a pause when he entered the NHL-NHLPA joint Player Assistance Program, but he made his return in a late January AHL contest for the Admirals.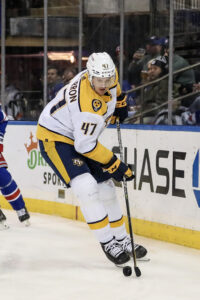 After working his way back onto the NHL roster during the month of February, McCarron earned a recall in early March and ended up playing seven NHL games in the 2023 calendar year.
While McCarron only posted one assist in those games, the Predators did manage a 4-2-1 record with him in the lineup.
Last season, McCarron spent the bulk of the year with the Predators, getting into 51 games and scoring 14 points.
He set career highs in both games played and points that season, and began the process of establishing himself as an NHL bottom-sixer rather than more of an AHL player.
McCarron had spent far more time in the minors with the Canadiens organization than in the NHL and even made it to the AHL All-Star Game in his rookie pro campaign. A 2013 first-round pick with an intriguing six-foot-six frame, McCarron never developed the type of offensive game that the Canadiens organization hoped he'd grow, and he ultimately fell out of favor with them as he aged out of prospect status.
He seems to have put the disappointments of his time in Montreal behind him, though, and become a valued contributor for the Predators. He'll now remain in that organization for its first year under new general manager Barry Trotz, and will look to earn a role next season as a full-time NHL contributor for the first time in his career.
The second player to be extended is Sherwood, 28, a player whose career has taken a wholly different trajectory from McCarron's. While McCarron was a highly-touted first-round pick, Sherwood went undrafted out of the USHL's Youngstown Phantoms and didn't even make his NHL debut until 2018-19, by when McCarron had already played enough NHL games to drop out of the Canadiens' future plans.
Sherwood's first professional season was a challenge, and he managed just 12 points in 50 NHL games. He found more success in the AHL, scoring 41 points in 66 games across two years for the San Diego Gulls, but eventually left the Anaheim Ducks organization to sign with the Colorado Avalanche.
Sherwood excelled in Colorado, scoring 75 points in just 57 games for their AHL affiliate. That stellar AHL performance earned him the contract he signed last summer with Nashville, and this year he played in his most NHL games since his rookie year, 32. Sherwood acquitted himself decently well at the game's highest level, scoring seven goals and 13 points, and maintained his high standard of AHL play with the Admirals, scoring 22 goals and 38 points in 42 games.
Now signed for another year, Sherwood will serve as premium depth for the Predators' organization, acting as a leading scorer for their AHL affiliate and a down-the-lineup offensive contributor in the NHL.
Photos courtesy of USA Today Sports Images