Navigating the Salary Cap is probably one of the more important tasks for any general manager to have. Teams that can avert total cap chaos by walking the tightrope of inking players to deals that match their value (or compensate for future value without breaking the bank) remain successful. Those that don't see struggles and front office changes.
PHR will look at every NHL team and give a thorough look at their cap situation heading into the 2018-19 season. This will focus more on those players who are integral parts of the roster versus those who may find themselves shuttling between the AHL and NHL. All cap figures are courtesy of CapFriendly.
Current Cap Hit: $73,823,569 (under the $79.5MM Upper Limit)
Entry-Level Contracts
F Pavel Buchnevich (one year remaining, $925K)
D Neal Pionk (one year remaining, $925K)
F Lias Andersson (three years remaining, $894K)
F Filip Chytil (three years remaining, $894K)
D Anthony DeAngelo (one year remaining, $863K)
G Alexandar Georgiev (two years remaining, $793K)
Potential Bonuses
Pionk: $850K
Andersson: $850K
Deangelo: $400K
Chytil: $350K
Total: $2.45MM
With the team in quick rebuild mode, there are some entry-level deals already and if the team continues to trend in that direction, they will have quite a bit more. The team's most prominent player at the NHL level to date would be Buchnevich, who improved on his rookie campaign with a 14-goal, 43-point season last year. He saw more ice time as well, improving from 13:16 ATOI to 15:01 as well as saw significant time on the team's power play, potting five goals and 11 assists with the man advantage and has earned himself a solid spot in the team's top-six. Another improved season could see him being an expensive restricted free agent.
The team has high expectations for their two 2017 first-rounders in Andersson and Chytil. Both have shown excellent skills and have received some time playing for the NHL with Andersson seeing seven games, while saw nine games. Both are expected to earn time with the Rangers out of training camp, but both may find themselves on bottom-six lines unless they can prove that they can center the second or third lines in training camp.
One Year Remaining, Non-Entry-Level
F Kevin Hayes ($5.18MM, UFA)
F Mats Zuccarello ($4.5MM, UFA)
D Rob O'Gara ($874K, RFA)
F Cody McLeod ($750K, UFA)
D Fredrik Claesson ($863K, RFA)
F Peter Holland ($675K, UFA)
D Steven Kampfer ($650K, UFA)
G Marek Mazanec ($650K, UFA)
The team agreed to a one-year deal with Hayes, avoiding arbitration, but now face the possibility that Hayes could walk away at the end of the season as he will be unrestricted, which will force the team into two possible directions, including attempting to work out a long-term deal with the team after Jan. 1, 2019, or trading him, possibly at the trading deadline if the two sides can't agree on anything. Hayes, who has been a jack of all trades playing multiple positions, seems to have developed into a solid center as he produced his best season ever, which included 25 goals, eight more than any previous year. The question is, do the Rangers view him as a fixture in their lineup as they continue to rebuild?
At age 30, Zuccarrello still puts up solid numbers, but despite the high-end minutes that the veteran gets, he falls into a similar category to that of Hayes where you have to ask whether he is in the team's long-term plans. The winger is penciled in to play on the team's top line once again, but has only put up 31 goals over the past two seasons. He does produce quite a few assists (81 over the past two years), but what the Rangers need more than anything is goals. Zuccarello will also turn 32 before he begins his next contract and at that age, how long are the Rangers willing to commit to him?
Two Years Remaining
F Chris Kreider ($4.63MM, UFA)
F Ryan Spooner ($4MM, UFA)
F Vladislav Namestnikov ($4MM, UFA)
F Jimmy Vesey ($2.28MM, UFA)
F Matt Beleskey ($1.9MM, UFA)
F Jesper Fast ($1.85MM, UFA)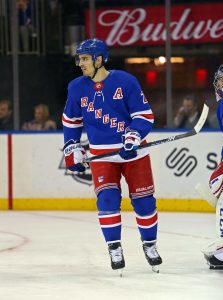 Kreider is coming off a tough year in which he had to deal with blood clots and had surgery to relieve the pressure and missed almost two months of time. The 27-year-old didn't have as solid of a season as he tallied just 16 goals in 58 games, which is a far cry from the 28 goals he scored in 2016-17 although a lot of that is due to the fact that his playing time dipped as the team didn't want to play him too many minutes due to the blood clot issue. Regardless with a full offseason to rest and recuperate, Kreider should be able to bounce back as one of the team's top scorers.
The team also have high expectations from two other forwards that the team acquired through at the trade deadline a year ago in Namestnikov and Spooner. Namestnikov was the biggest name to arrive in New York in the Ryan McDonagh trade with Tampa Bay. He was a key player for the Lightning, posting 20 goals and 44 points with them, but he actually lost playing time once he arrived in New York and put up just two goals and four points in 19 games. The team hopes that a new coach and proper training camp with his new team will make quite a difference. Spooner came over in the Rick Nash trade with Boston and has posted solid numbers with the Bruins over the past few seasons and could turn out to be a top-six wing or third-line center in New York. Between the two teams, Spooner combined for 13 goals and 28 assists.
The team also expect big things from Vesey, who signed as a undrafted collegiate free agent a couple of years ago and if finally starting to show that he belongs in the NHL. The 25-year-old winger has put up solid numbers for two years, but could find himself getting more opportunities in the team's rebuild. In two years, he's combined for 33 goals and 55 points.