The New York Rangers have decided to add a little toughness to their lineup, today claiming Cody McLeod off waivers from the Nashville Predators. Nathan Gerbe, who was also on waivers after signing with the Columbus Blue Jackets, has cleared and will be assigned to the Cleveland Monsters of the AHL. In addition, Magnus Paajarvi has been waived by the St. Louis Blues.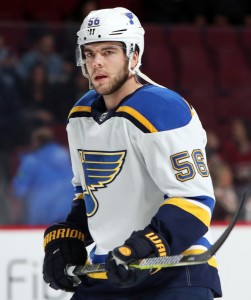 This is the second time the Rangers have claimed a physical fourth-line presence this season after adding Adam Cracknell earlier in the year. While Cracknell was eventually flipped in a minor trade, McLeod could catch on as a bang-and-crash winger who is ready to drop the gloves in defense of a teammate. Though that style is rarely seen in the game these days, McLeod has continued to find work and will try to prove his value in New York.
The Rangers needed to make a corresponding roster move to fit McLeod in, and sent Daniel Catenacci to the minor leagues to make room. Vinni Lettieri and Anthony DeAngelo are the only players on the roster who are waiver exempt, however Peter Holland could've also still also been sent without having to clear waivers again, as he hasn't been up long enough for his clock to reset.
Paajarvi's inclusion on waivers is interesting, if not entirely unexpected. The Blues have activated Jaden Schwartz from injured reserve, and needed a roster spot for him to fit in. While Tage Thompson and Ivan Barbashev are both waiver-exempt, both have proven themselves as key parts of the forward group and won't be sent down anytime soon.
Instead, it's Paajarvi's turn to be risked on waivers. The 10th-overall pick in 2009 hasn't ever established himself as an offensive presence in the NHL, instead playing the roll of checking forward and penalty killer. In 352 career games, Paajarvi has 97 points including just four this season. While his age (26), size (6'3″ 206-lbs) and draft pedigree all suggest that there still could be another level to his play, nothing on the ice confirms it.
Still, he could be an interesting player for a contending team to add if they're not happy with their own depth. Earning just $800K before hitting unrestricted free agency this summer, Paajarvi poses very little risk in terms of financial commitment. It's important to note that Arizona, Toronto and Minnesota are all at their 50 contract limit, meaning they'd need to rid themselves of another player before making a claim.
Photo courtesy of USA Today Sports Images