Navigating the Salary Cap is probably one of the more important tasks for any general manager to have. Teams that can avert total cap chaos by walking the tightrope of inking players to deals that match their value (or compensate for future value without breaking the bank) remain successful. Those that don't see struggles and front office changes.
PHR will look at every NHL team and give a thorough look at their cap situation heading into the 2018-19 season. This will focus more on those players who are integral parts of the roster versus those who may find themselves shuttling between the AHL and NHL. All cap figures are courtesy of CapFriendly.
Current Cap Hit: $77,345,227 (under the $79.5MM Upper Limit)
Entry-Level Contracts
F Alex Iafallo (one year, $925K)
F Sheldon Rempal (one year, $925K)
F Gabriel Vilardi (three years, $925K)
D Daniel Brickley (one year, $925K)
F Adrian Kempe (one year, $894K)
Potential Bonuses
Rempal: $850K
Brickley: $850K
Vilardi: $500K
With a franchise filled with veteran contracts, the team has been forced to slowly integrate some youth onto the team. What the team has recently done successfully is signing several undrafted collegiate free agents, including Iafallo, Brickley and Rempal. Iafallo made the Kings' team out of training camp after four years at the University of Minnesota-Duluth and even started on the team's top line, posting nine goals and 25 points. This year, the team has the same hopes for Brickley and Rempal, two of the top college free agents, who each signed earlier this year and have solid chances to make the club out of training camp.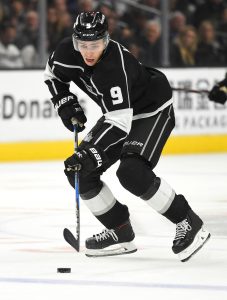 The team also have high hopes that Kempe can continue to develop into a top-six forward after finally breaking into a full-time role with the Kings this year. The 21-year-old 2014 first-round pick posted 16 goals and 37 points last year and could be primed to take that next step next season. Vilardi, the team's 2017 first-rounder, might have made the L.A. team last year if he hadn't suffered a back injury at the end of the 2016-17 season. He missed half of last season, but still posted solid numbers in junior on his return, posting 22 goals and 58 points in just 32 games. He could easily win a bottom-six role immediately and work his way up the depth chart as the season rolls on.
One Year Remaining, Non-Entry-Level
F Nate Thompson ($1.65MM, UFA)
G Peter Budaj ($1.03MM, UFA)
F Jonny Brodzinski ($650K, RFA)
F Zack Mitchell ($650K, RFA)
D Oscar Fantenberg ($650K, UFA)
The team has few contracts that they have to worry about among non-entry level deals. Fantenberg may be the most intriguing of the bunch as the 26-year-old defenseman showed some offensive potential in limited action after coming over from the KHL last year. While he played in just 27 games last season, he posted 13 points and managed to play a significant role in their four-game playoff series with the Vegas Golden Knights. Other than Mitchell, who came over from Mitchell, all are unrestricted free agents and will have to prove their value to get a new contract in the future.
Two Years Remaining
F Tyler Toffoli ($4.6MM, UFA)
D Jake Muzzin ($4MM, UFA)
D Derek Forbort ($2.53MM, UFA)
F Trevor Lewis ($2MM, UFA)
F Kyle Clifford ($1.6MM, UFA)
D Kurtis MacDermid ($675K, RFA)
G Jack Campbell ($650K, UFA)
Toffoli posted solid numbers for the fourth straight year, putting up 24 goals and 47 points as he enters the second year of a three-year, $13.8MM deal. The 26-year-old flashed some offensive potential two years ago when he scored 31 goals. Hoping that he might build on that number, Toffoli has scored just 40 goals in the past two years, so the team hopes he can return to an elite level soon. Muzzin is a solid top-four defenseman on a team that is loaded in defense and proved his value by putting up a career-high in points with 42, despite missing eight games last seasons.