The trade deadline doesn't sleep. After much of the east coast media has gone to bed, the west coast teams are still working. The San Jose Sharks have acquired Jannik Hansen from the Vancouver Canucks. In return, the Canucks have sent Nikolay Goldobin and a conditional fourth-round pick. Amazingly, the condition is that if the Sharks win the Stanley Cup this season, the fourth would become a first-rounder.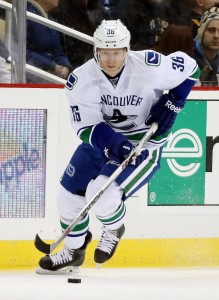 While Hansen is a nice player for the Sharks to add to their playoff run, this is an incredible return for the Canucks. Hansen will turn 31 on March 15th and is signed for through next season at $2.5MM. Vancouver will retain 20% on that contract through 2017-18. He scored a career-high 22 goals last season, but it took an aggressively high shooting percentage to do it. That 18.8% mark was quite a bit higher than his career mark, though perhaps some of it comes from playing with better players.
After missing a good chunk of this season with a knee injury, he has scored just 13 points in 28 games. He does give the Sharks some more playoff experience, as he has suited up 64 times in the postseason. It's unclear where he'll fit into the San Jose lineup, though Hansen has proven he can play basically anywhere up or down the roster and give you dependable defense with some offensive upside.
Goldobin is a tough prospect to part with though, as he has done nothing to lower his stock since being drafted in 27th overall in 2014. His AHL numbers are outstanding with 90 points in 115 games, though he hasn't yet been able to crack the Sharks lineup with any regularity. When paired with Jonathan Dahlen who was acquired yesterday in the Alex Burrows deal, the Canucks have added two prospects that would immediately rank near the top of their system.
The fact that the fourth-round selection was added is amazing in itself, but the condition is just gravy for the Canucks. The Sharks were two victories away from winning the Stanley Cup last season, and are poised to go on a deep playoff run once again. The chance of gaining a first-round pick in addition to Goldobin is slight, but still an unbelievable possibility for a rebuilding squad.
After hanging around the playoff chase for a while this season, the Canucks have had a very good few days before the deadline. Moving out aging veterans and not settling just for draft picks will supercharge any rebuild they attempt. They need it after handing out a questionable deal to Loui Eriksson this summer and still having the Sedins under contract.
Pierre LeBrun of ESPN was first to report the trade on Twitter, while Bob McKenzie of TSN gave us the return.  LeBrun also noted that the Canucks are retaining on Hansen's salary.

Photo courtesy of USA Today Sports Images