Free agency is now a little less than a month away from opening up and there are quite a few prominent players set to hit the open market while many teams have key restricted free agents to re-sign.  Here is a breakdown of New York's free agent situation.
Key Restricted Free Agents: F Vladislav Namestnikov – The Rangers have plenty of restricted free agents to sign this summer, and while Kevin Hayes and other forwards may have had a bigger impact on the team, it's Namestnikov that remains the biggest enigma. After coming over from the Tampa Bay Lightning at the deadline as part of the Ryan McDonagh trade, Namestnikov failed to find much chemistry with his new team. The 25-year old registered just four points in 19 games down the stretch, after notching 44 in Tampa Bay (mostly alongside Steven Stamkos and Nikita Kucherov). Those 44 had already guaranteed he would reach a career-high in points, and he had already cracked 20 goals by the end of February.
There is still some question as to where he fits into the Rangers plans though. As the team continues to try and get younger, they essentially swapped two players the same age when they sent J.T. Miller along with McDonagh to Tampa Bay. Now Namestnikov, the 27th-overall pick from 2011, will have to show that the team actually upgraded with that trade and show he can be a top-six contributor in 2018-19 and beyond. Since he'll be turning 26 in November any long-term deal will be buying out several unrestricted free agent seasons, substantially increasing the cap hit of the overall deal. After being paid an average of just $1.94MM the last two years, Namestnikov will be looking for a substantial raise. It's not clear if New York wants to commit long-term to a player that has had trouble producing when not playing alongside elite linemates.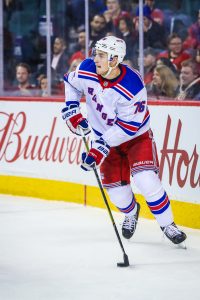 D Brady Skjei – If Namestnikov is the most unclear decision on the team's RFA list, Skjei might be the most important. The 24-year old turned into one of the team's most reliable defensemen in the second half of 2016-17, and showed again that he could be a big time contributor this season. Though his point production dropped significantly, Skjei was asked to log more than 21 minutes a night for a team whose defensive unit was constantly in flux. McDonagh was traded midseason, Kevin Shattenkirk dealt with injury and Brendan Smith was banished to the minor leagues, leaving Skjei the lone defender who could be counted on all season.
Skjei is coming off his entry-level contract later than many other impact players, meaning that he's closer to unrestricted free agency than many would be heading into their second deal. It's clear that he is a player to build around for the Rangers, and signing him long-term right now is the only way to really keep his cap hit to a reasonable amount. If the team (or player, for that matter) decides to mitigate risk and sign a short-term bridge deal, it could end up costing them in the long run if Skjei continues to improve and looks for a big-money extension when he's 26 or 27.
Other RFAs: F Ryan Spooner, F Kevin Hayes, F Jimmy Vesey, D Rob O'Gara, D John Gilmour, G Marek Mazanec, F Steven Fogarty, F Boo Nieves, F Chris Bigras, F Adam Tambellini
Key Unrestricted Free Agent: G Ondrej Pavelec – The Rangers sold hard at the deadline to rid themselves of nearly all valuable unrestricted free agents, leaving Pavelec as the last remaining big ticket. The team does have other potential internal options as a backup for Henrik Lundqvist, but there's not much to complain about with their situation this year. Pavelec recorded a .910 save percentage in 19 games, and though his record was poor that's more a reflection on the team in front of him than his performance. The former Winnipeg Jets goaltender signed for just $1.3MM this season, and could likely be brought back for a similar amount in 2018-19.
Otherwise, Pavelec would likely have several suitors around the league as a reasonably priced backup with plenty of experience. The 30-year old goaltender has played 398 games in the NHL, and could come in as a 20-game backup for one of the more established goaltenders in the league. There is also always a chance he could return to the Czech Republic as a starter, though it's been more than a decade since he played there full-time.
Other UFAs: F Paul Carey, F Cody McLeod, D Ryan Sproul, F Daniel Catenacci, F John Albert
Projected Cap Space: The Rangers currently project to have somewhere around $30MM in cap space to spend this summer, but a lot of that will be eaten up by the group of RFAs requiring new contracts. If every one of Skjei, Spooner, Hayes, Vesey and Namestnikov are signed, the team could be looking at a lot less room to operate with for the rest of the summer. The idea that they'll just re-sign what they have and go into next season with the same group seems foolish, especially with young players like Filip Chytil and Lias Andersson knocking down the door.
With three first-round picks and plenty of young prospects starting to fill the cupboards, it wouldn't be surprising if New York was one of the most active teams this offseason. Either continuing to trade experience for youth and building towards a window of contention in a few years, or reloading to get back to the playoffs in the short-term, the Rangers are a team to watch closely as the draft approaches in a few weeks.