As Thanksgiving and the holiday season approaches, PHR will be taking a look at what teams are thankful for in 2023-24. There also might be a few things your team would like down the road. We'll examine what's gone well in the early going and what could improve as the season rolls on for the Boston Bruins.
Who are the Bruins thankful for?
Jeremy Swayman and Linus Ullmark
Boston's goaltending wasn't just great last season, it was historically great. And with the litany of NHL all-stars that departed Boston this summer, many pundits figured that the Bruins' historical 65-win season would be a distant memory as they struggled through this season. That has not been the case, in fact, the Bruins aren't just as good as last year. Thus far this season, they are actually better. Last season at this time Boston was sporting an incredible .823 points percentage, but this year they are sitting at an unfathomable .861.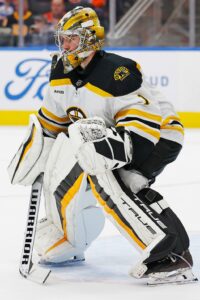 Sure, they still have some of the pieces from their strong core kicking around, but the real reasons they are historically good once again this season are Swayman and Ullmark.
Swayman and Ullmark have split goaltending duties almost directly down the middle this season with incredibly close comparables. Swayman is currently sporting a record of 7-0-2 with a 2.09 goals-against average and a .933 save percentage. Ullmark on the other hand is 7-1-1 with a 2.10 goals-against average and a .932 save percentage.
To find a discrepancy between the two netminders it requires a deep dive into the numbers. According to Money Puck, Swayman has saved one full goal more when you look at both goaltenders' goals saved above expected. Swayman has posted a 7.6 goals saved above expected while Ullmark has posted 6.6. The calculation by Money Puck is done by taking the goals that a goalie is expected to allow and then subtracting the actual number of goals the goalie has let in. Both Ullmark and Swayman are well above average in this category and every other goaltending metric.
There was talk in the summer that maybe the Bruins would like to move on from Ullmark, but it is hard to fathom Boston breaking up such an incredible duo. Goaltending is a notoriously difficult position to project and it's rare for teams to get one goalie playing as well as Swayman or Ullmark, and having two is unheard of.
What are the Bruins thankful for?
Surprising play from their top centers.
When Patrice Bergeron and David Krejci announced their retirements in August, many thought that it could be curtains for the Bruins time atop the NHL standings. But, from the moment the puck dropped to start the NHL season they have received quality work from their top two centers Pavel Zacha and Charlie Coyle.
Zacha's year didn't start out great as he had just a single assist in the first five games of the season, but since that time he has posted seven goals and six assists in his past 13 games. On top of finding his offensive game, Zacha is averaging almost three and a half minutes more ice time per game than his career average and is finding far more success in the faceoff circle winning draws at a rate that is almost five percent higher than last season.
Coyle on the other hand is on pace for a career season and has fit the role of a top-6 center perfectly. At the moment the 31-year-old is on pace for 32 goals and 41 assists should he dress in all 82 games. Now a lot would have to go right for Coyle to hit those numbers, but the odds are pretty good that he will top the career-high 56 points he put up in the 2016-17 season. Coyle isn't just doing good work on the offensive side of the game; he has also been a huge part of Boston's penalty kill and has been dominant in the face-off circle.
What would the Bruins be even more thankful for?
More scoring from the backend
It's hard to be wishing for more when your team is 14-1-3 to start the season. But if the Bruins were looking for a little something extra it would be more scoring from their defense core. So far this season, Bruins defensemen have accounted for just seven goals and 28 assists. Now, those numbers aren't horrible, and they certainly don't paint a fair picture of all their defensemen's contributions. But the collective 35 points from the Bruins defense core barely tops the 31 points that Vancouver Canucks defenseman Quinn Hughes has put up on his own this season.
Bruins head coach Jim Montgomery has said in press conferences that he would like to see the Bruins' defensemen adopt more of a shot-first mentality and he would especially like to see his rearguards be in shot-ready mode at any time.
There is merit to what Montgomery is preaching. The Bruins have a ton of big forwards who can drive to the net and get sticks on pucks, or at the very least cause disruption and perhaps create a seam for a seeing-eye shot from a defenseman to find its way into the back of the net.
The Bruins could certainly look to conference foe the Carolina Hurricanes to see how an active defense core can score a lot of goals from the point just by simply being selfish and shot-happy when the shooting lanes open.
What should be on the Bruins holiday wish list?
A top-6 forward.
To be fair, the Bruins really don't have any needs at the moment. And if there is anything that can be taken away from last year's playoff collapse it is that often it doesn't payoff to go all in.
The Bruins don't have many trade chips to bolster their lineup at this year's trade deadline, but that doesn't mean they won't. If they were to decide to make an impact move at the trade deadline, acquiring a top-6 forward must be top of mind for general manager Don Sweeney.
The Bruins current top-6 is formidable, but it is hard to imagine a team with Stanley Cup aspirations feeling overly comfortable with 34-year-old James van Riemsdyk eating up big minutes come playoff time. That's no slight on van Riemsdyk, who has been terrific this year, but the reality is that he would be better suited to dress on the team's third line with Matthew Poitras and Jake DeBrusk
Photo courtesy of USA Today Sports Images