Today, The Boston Bruins and goaltender Jeremy Swayman filed their arbitration numbers, and according to Sportnet's Elliotte Friedman, Boston has filed at $2MM for one year, while Swayman has asked for $4.8MM. The 24-year-old netminder and the Bruins have until Sunday to work out a deal before they will go to arbitration.
Swayman's number is sure to shock some people, but that is typically how this process works. The team files a lowball number, and the player files high. The arbitrator's decision typically falls somewhere in the middle, as was the case with the Toronto Maple Leafs and netminder Ilya Samsonov.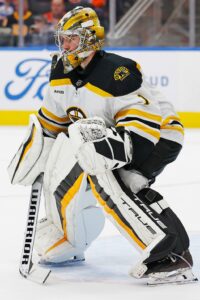 Swayman is coming off the best season of his career and does have considerable leverage in these negotiations. The Anchorage, Alaska native posted a 24-6-4 record this past year with a .920 save percentage and a 2.27 goals-against average. His save percentage was good enough for fourth in the league trailing only Filip Gustavsson, Ilya Sorokin, and Swayman's partner Linus Ullmark. Speaking of Ullmark, his presence complicates the situation with Swayman because he is coming off a career year as well, one in which he won the Vezina Trophy as the league's top goaltender. Ullmark also has two years left on his contract and is unlikely to be moved this late in the summer.
The Bruins do have a bit of cap space to sign Swayman, however, they will want to keep the cap hit as low as possible since they have other pressing needs throughout their lineup from free agency departures and the retirement of Patrice Bergeron. The Bruins have a hair under $5.5MM in cap space and could be presented with some major challenges if the arbitrator rules a salary that is close to Swayman's filing.
For Swayman, he will be looking to cash in on what has been a terrific career thus far. He just completed the three-year-contract entry-level contract that paid him $925K this past season, and while his filing is on the high side, he will likely triple or quadruple his salary this upcoming season.
A lot of teams will take a player to arbitration in the hopes of laying the groundwork for future salary cap management. However, in this case, Boston is just trying to stay cap compliant and keep as much of their team intact as they can.
Filings
Team: $2MM (one-year)
Player: $4.8MM (one-year)
Midpoint: $3.4MM
The Numbers
As mentioned above, 2022-23 saw Swayman have a career year, and while he was phenomenal when he did play, his sample size is still quite small. Swayman has never played in more than 41 games and hasn't had to carry the workload in Boston since he's always had the benefit of playing behind a bonafide number-one goaltender. There is a good argument to be made that it isn't any fault of Swayman's, and he can only play the games he plays. However, he is asking for starting goaltender money, and up to this point, he hasn't been a starter. You can look to other teams like the Pittsburgh Penguins, who had star backups in Matt Murray and Tristan Jarry, but both of those netminders struggled with injuries and inconsistency once they were appointed as starters.
For Swayman, this season wasn't all that far off from last season. His save percentage was slightly better, and he lost fewer games. However, he also played behind a far superior team than he did in previous seasons. That is also something that critics will point to, Swayman plays behind one of the best teams in the league, and again, that isn't his fault. But it could be a knock the Bruins use in the ugly process that is arbitration.
From Swayman's perspective, despite being mostly a backup, he can point to the fact that he's taken over the net in consecutive postseasons from Ullmark. While that isn't proof of anything, it does give his arbitration case credibility and showcase that the Bruins view the youngster as an NHL starter.
Swayman is also not a one-year wonder and can point to a few seasons of sustained success at the NHL level. Since he made his NHL debut in 2020-21, he has posted an impressive nine shutouts in 82 starts and is second in the NHL in goals-against average with a 2.40, and he also ranks fifth in save percentage with a .920 career save percentage. Some people might point to those numbers and say Swayman is the benefactor or a good team in front of him, and that is fair. However, if you take a deep dive into his numbers, you will find that over the course of his career, he has posted a ridiculous 33.8 goals saved above expected.
It will be interesting to see how the Bruins value Swayman. Do they see him as a long-term starting netminder, or is their view that he is a strong backup? You have to wonder if the Bruins had more cap space this summer if they wouldn't try and lock him into a long-term deal at a reasonable cap hit. But that isn't the world Boston is living in, and unfortunately for them, they are up against the cap and up against a player who has been terrific for them for quite some time.
This is a tough case to pin down due to the volatility of the goaltending position. However, given that the Maple Leafs and Samsonov just went through this process, it seems likely that the arbitrator will rule somewhere close to the middle of the two sides' filings.
2022-23 Stats: 37GP 24W 6L 4T/O .920SV% 2.27GAA 4SO
Career Stats: 88GP 54W 23L 7T/0 .920SV% 2.24GAA 9SO
Potential Comparables
Comparable contracts are restricted to those signed within restricted free agency, which means UFA deals and entry-level pacts are ineligible to be used. The contracts below fit within those parameters. Player salaries also fall within the parameters of the submitted numbers by both sides of this negotiation. 
Ilya Samsonov (Maple Leafs) – Samsonov was just awarded a one-year deal for $3.55MM and is the obvious comparison for Swayman. However, it may serve as a "low-end" comparable for what his awarded contract could look like. Swayman is two years younger than Samsonov, and although he has a shorter track record, Swayman's career numbers are vastly superior. However, if you look at just this past season in a vacuum, their numbers are quite similar. They sport an almost identical save percentage with a .01 difference, Swayman's goals-against was .06 percent better and Samsonov dressed in five more games. A key point is the perception of the two goaltenders at the end of the year is different, despite coming to similar finales. Samsonov is widely viewed as Toronto's starter heading into next year, while Swayman is firmly viewed as the Bruins' backup. This perception could be a difference-maker in the eyes of an arbitrator. But, if they look strictly at the numbers, one will think that Swayman could be staring down a higher salary next year.
Tristan Jarry (Pittsburgh Penguins) – This comparison is a bit older, but it still applies to Swayman's situation, given the flat-cap world we are living in. Jarry signed a three-year, $3.5MM AAV pact with the Penguins after his 2020-21 season, a year where he went 20-12-1 while posting a .921 save percentage and a 2.43 goals-against average while being named to the all-star game. Unlike Swayman, Jarry ended that campaign firmly viewed as the Penguins goaltender of the future after Matt Murray faltered in the playoffs once again. Pittsburgh knew that Jarry was their goaltender of the future and locked him up to a bridge deal. To that point in his career, Jarry had played just 62 games and had gone 34-20-4. Despite the lack of playing time, the then 26-year-old was viewed as a bonafide starter, something that Swayman might have to wait to be labeled.
Projection
Swayman has been terrific thus far in his career, however, his numbers are not strong enough to justify his $4.8MM AAV ask. However, he's aiming high, and he has an excellent case to top Samsonov's $3.55MM contract and Jarry's $3.5AAV from 2020. I would have to guess that Swayman will be awarded something in the $3.55MM – $3.75MM range.
If Swayman can post numbers similar to what he has done thus far in his career, one would have to think that Boston will push to trade Ullmark next season and finally anoint Swayman as their number-one goalie. Swayman has probably earned a bridge deal at this point but given that he plays on a team as good as the Bruins, there is only so much money to go around. He will have to wait to get his security, but for now, he should get a nice pay bump next season.
Photos courtesy of USA Today Sports Images