11:49 AM: Minnesota has officially signed Gustavsson to a three-year, $11.25MM contract, per a team announcement. The deal carries a cap hit of $3.75MM and will carry him to unrestricted free agent status in 2026. Per CapFriendly's projections, the Wild now have $1.64MM in cap space with a minimum roster of 20 players, and they still have RFA defenseman Calen Addison to sign. The full breakdown of the deal is as follows, according to PuckPedia:
2023-24: $4.25MM
2024-25: $4MM
2025-26: $3MM (five-team no-trade list)
10:12 AM: The Minnesota Wild are nearing a multi-year settlement with young goaltender Filip Gustavsson ahead of their planned arbitration hearing on Friday, The Athletic's Joe Smith reports.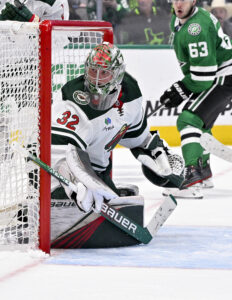 It's hard to argue with locking down Gustavsson long-term after the season he just had. Operating in tandem with veteran Marc-Andre Fleury, the 25-year-old netminder finished atop many goaltending stat categories and even got end-of-season All-Star team consideration. His .931 save percentage in 39 games played trailed only Boston Bruins netminder Linus Ullmark, who took home this year's Vezina Trophy. He also stopped 24.2 goals above expected, according to MoneyPuck's model, meaning he stopped about 0.63 goals per game more than the average goalie based on the shot quality he faced.
This isn't out of nowhere, either. Despite being in his third NHL organization already, Gustavsson has been a rather highly-touted prospect since the Pittsburgh Penguins selected him 55th overall in 2016. While a performance like this may have seemed unlikely, Gustavsson has always had the potential to turn into a starting netminder. Considering the delayed age curve that's in effect for many goalies, his arrival into NHL relevancy is right on time.
He'll undoubtedly push for more games next season, and it seems it's only a matter of time until he's anointed the Wild's first long-term full-time starter since Devan Dubnyk. It's a scenario that seemed unlikely when the Wild acquired him in a one-for-one swap with the Ottawa Senators last summer for veteran Cam Talbot, who had a rather disappointing season in the nation's capital and has since moved on to the Los Angeles Kings via free agency.
Gustavsson's strong play continued in the postseason, too, posting a .921 save percentage in five games during the Wild's first-round loss to the Dallas Stars.
Financial certainty for the Wild on their own terms, not from an arbitrator, is also an extremely desirable outcome here for general manager Bill Guerin. The team's incredibly tight salary cap situation is no secret – with $14.75MM in dead cap dedicated to the Ryan Suter and Zach Parise buyouts, every dollar (and every signing) is extremely consequential for the team's ability to manage their day-to-day roster. The team likely will not be able to carry a full 23-player roster this season, limiting themselves to just one or two healthy scratches depending upon their injury situation.
Of interest, this is a scenario that seemed extremely unlikely just one week ago. Smith had reported earlier that the two sides were likely headed to arbitration and were not close to a pre-hearing settlement. Evidently, Gustavsson and the Wild made up a lot of ground in negotiations over the last seven days. It was also reported earlier this summer that the Wild preferred a three-year term on a Gustavsson extension, buying one year of unrestricted free agency in the process.
Photo courtesy of USA Today Sports Images.