Boston Bruins captain Patrice Bergeron, one of the greatest players in franchise history and arguably the greatest defensive forward of all time, announced his retirement today.
Bergeron provided a statement regarding this decision in both French and English, which can be read in full here. An excerpt from the statement reads:
Finally, to the next generation of hockey players. I had a dream at 12 years old, and through hard work and perseverance my dreams came true more than I ever could have imagined. Respect the game and your peers. Welcome adversity and simply enjoy yourself. No matter where you go from there the game will bring you so much happiness.

As I step away today, I have no regrets. I have only gratitude that I lived my dream, and excitement for what is next for my family and I. I left everything out there and I'm humbled and honored it was representing this incredible city and for the Boston Bruins fans.
Bergeron turned 38 yesterday, and has been a regular in the NHL since his rookie season in 2003-04.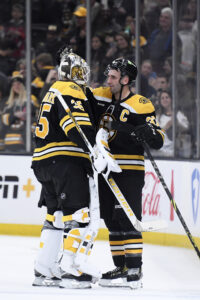 It was evident early on that Bergeron was something of a special player. Not many players drafted 45th overall take an immediate step into the NHL at the age of 18, and even fewer have as productive of a rookie season as Bergeron had.
He stepped straight into the Bruins' lineup from the QMJHL and scored 16 goals and 39 points, averaging over 16 minutes per night.
By the age of 20, Bergeron had become a true top-six center in the NHL, scoring 31 goals and 73 points in his second full season. At the age of 24, Bergeron first appeared on a Selke Trophy ballot, and soon he would set the gold standard for defensive play by a center in the NHL. Bergeron's victory in the Selke Trophy voting has been a formality for much of his career, and he finishes his playing days having won the prestigious award a record six times.
Beyond just setting the standard for two-way excellence, Bergeron has long been viewed as one of the game's exceptional leaders. Bergeron won both the Mark Messier Leadership Award (2020-21) and King Clancy Memorial Trophy (2012-13) and was a yearly fixture on the Lady Byng Trophy ballot.
He also set the standard for work at the face-off dot, leading the NHL in face-off win percentage four times and posting a career 58.9% win rate.
Bergeron had long served as an alternate captain for the Bruins before taking up the captain's role after the departure of Zdeno Chara. Under his watch, the Bruins had their most successful era of hockey since Bobby Orr and Phil Esposito tore the league apart in the early 1970s. The Bruins won three Prince of Wales trophies during Bergeron's tenure, three Presidents' Trophies, and the franchise's first Stanley Cup since 1972.
In 2011 Bergeron truly shined, scoring 20 points in 23 playoff games, including the Stanley Cup-winning goal. While the Bruins undoubtedly would have loved to go on one last deep playoff run during Bergeron's final season, a year where they set records for regular-season success, the organization is undoubtedly more than happy with the more than a decade of legitimate Stanley Cup contention Bergeron led them through.
Beyond just his work for the Bruins, Bergeron found success representing Canada internationally. At times forming a lethal two-way line alongside Bruins teammate Brad Marchand and superstar Sidney Crosby, Bergeron took home the gold medal at the 2010 and 2014 Winter Olympics as well as the World Cup of Hockey in 2016.
A slam-dunk first-ballot Hall of Famer, Bergeron re-defined what it meant to be a two-way center in the NHL over the course of his career. Whenever NHL draft prospects playing center are asked who they'd like to emulate in the NHL, Bergeron is frequently the most commonly referenced name. That's despite the existence of centers that have long surpassed Bergeron in offensive production, such as Connor McDavid and Nathan MacKinnon.
That likely reflects something that made Bergeron truly valuable: so much of what made him special was something another player could feasibly replicate through an immense amount of hard work.
If a player doesn't possess the natural talent of a McDavid or a MacKinnon, expecting them to reflect those players in the NHL is impossible. But Bergeron, on the other hand, is a player whose many great qualities can be mimicked.
Not only did Bergeron provide Boston with exceptional individual on-ice value, he also provided the organization with an invaluable role model for other players to follow. His relatively affordable contracts created a team-friendly financial structure under the salary cap for the Bruins to be able to field a contending team year after year. Countless Bruins players, such as Pavel Zacha, for example, have seen their game improve after practice after practice under Bergeron's wing.
Teams across the NHL dream of establishing a clear team culture that emphasizes excellence and selflessness both on and off the ice, as well as the importance of shared sacrifice in the pursuit of winning. Bergeron embodied that culture for the Bruins throughout his career, and for nearly two decades the Bruins and the city of Boston were better for it.
Even after his retirement, Bergeron is likely to be viewed as the pinnacle of two-way excellence for centers in the NHL and will continue to be a name oft-cited by draft prospects looking to establish credibility as a two-way player.
Although he leaves Boston in a relatively unclear spot down the middle (the team's two top-six centers projected for next season are Zacha and Charlie Coyle, neither of whom have ever scored 60 points in the NHL) the franchise can ask nothing more of Bergeron, who played on a below-market $2.5MM contract last season.
Bergeron will now get to enjoy his retirement and leave a Bruins organization that will be eternally grateful for the nearly two decades of leadership, class, and on-ice excellence he provided.
Photos courtesy of USA Today Sports Images