Derick Brassard will be traded. That's the news coming out of nearly every outlet in Pittsburgh as the Penguins prepare to shake up their roster for another Stanley Cup run. The latest to report on the Penguins is Sportsnet's Elliotte Friedman in his latest 31 Thoughts column, which includes a note saying that GM Jim Rutherford is "ready to start dealing."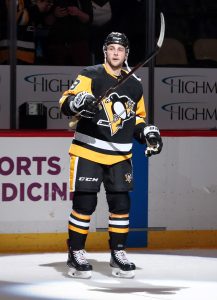 That notion comes just a day after the Penguins lost badly at the hands of the San Jose Sharks, their second consecutive defeat and one that has dropped them to fourth place in the Metropolitan Division. That's a dangerous place to be in at the moment every team out of the playoff picture is gunning for the Penguins' spot, including the Buffalo Sabres who are just four points back. Rutherford is never one to just wait around and hope things get better, and with the imperfect fit that is Brassard there's work to be done.
Friedman notes that the Penguins have expressed interest in Carolina Hurricanes forward Micheal Ferland, but also writes that the list of teams after the pending free agents is long and also includes the Boston Bruins, Edmonton Oilers and Vancouver Canucks. Ferland would be a nice fit to provide some physicality and secondary scoring for the Penguins, but he doesn't fill that third-line center role that Brassard has failed to run with.
If that's the position most sought after, there are certainly several avenues to go down. Matt Duchene's representation is meeting with Ottawa Senators GM Pierre Dorion today in California according to Darren Dreger of TSN, meaning there should be at least some feeling of where his contract negotiations are headed. If the Senators can't get Duchene under an extension in the next few weeks, you have to expect them to see what they could get for him on the trade market. Kevin Hayes stands out as another center that could fit in behind Sidney Crosby and Evgeni Malkin, though there will be plenty of competition for his services too.
Like other teams that are squarely in their competitive window, the Penguins aren't worried about building for the future and will try to give themselves the best shot at a Stanley Cup this season. Brassard was that move a year ago as the team had to part with multiple pieces to multiple teams in order to get a cheaper version of the veteran center onto their team. That leaves Brassard as a fairly appetizing trade chip this time around, given that he carries just a $3MM cap hit this season. Moving that cap hit will be important to any moves that the Penguins do make, given their relative proximity to the salary cap ceiling.
Photo courtesy of USA Today Sports Images