With the trade deadline now just a few days away, we will be taking a closer look at the situation for each team over the coming weeks.  Where do they stand, what do they need to do, and what assets do they have to fill those needs?  Next up is a look at the Nashville Predators.
It's been an up-and-down year in Nashville for a team that had such high expectations. For a while, the team was floundering near the bottom of the Central Division. The team fired long-time head coach Peter Laviolette and replaced him with John Hynes. While the results have been slow-going, Nashville seems to be moving up in the standings. Suddenly, just one point out of a playoff spot, the Predators look like a team that could make a playoff run after all. That puts general manager David Poile in an interesting position at the trade deadline. Should he buy, stand still, or maybe even sell?
Record
30-23-8, fifth in the Central Division
Deadline Status
Slight Buyer
Deadline Cap Space
$11.517MM in a full-season cap hit, 0/3 used salary cap retention slots, 45/50 contracts per CapFriendly
Upcoming Draft Picks
2020: NAS 1st, NJD 2nd, NAS 2nd, MIN 3rd, NAS 3rd, NAS 5th, NAS 6th
2021: NAS 1st, NAS 2nd, NAS 3rd, NAS 4th, NAS 5th, NAS 6th
Trade Chips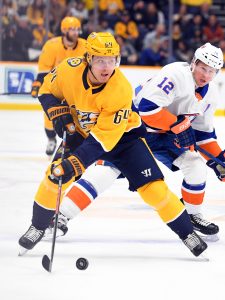 One name seen often as a trade deadline candidate is Mikael Granlund. The winger was brought over from Minnesota to give the team another experienced and gifted top-six forward. However, that hasn't happened as he struggled with a goal and five assists in 16 games with the team last season. It wasn't much better early on as he had six goals and 14 points through 35 games under Laviolette, which has had a lot to do with the rumors. However, Granlund seems to have found his game under Hynes. He has nine goals and three assists in those 20 games. Regardless, the 27-year-old who will be an unrestricted free agent next year, still may not be the best fit in Nashville's system and could be a target for teams that believe he'd be a better fit in their system.
Craig Smith is a somewhat different story. Also a UFA next summer, Smith could be a potential trade candidate if the team feels they can't re-sign him, although it's just as possible that Nashville locks him up in the near future as well. Smith has turned it on of late with six goals in his past eight games. He could be part of a package for an upgrade, if the team is ready to move on from him.
The team could find itself bringing in help on defense as the team needs depth, especially with their third pairing. It wouldn't be surprising if the team moved one of those defenders to send back for an upgrade on defense as well, such as Dan Hamhuis, Yannick Weber or Matt Irwin.
Nashville has most of their picks, but have two second and two third-rounders in this upcoming draft. That might be the ammunition to acquire a player they covet. The team also has a few prospects and while it's unlikely they would move their top prospect forwards in Philip Tomasino, or Eeli Tolvanen there are a number of other prospects who could interest a team, such as forward Egor Afanasyev or defenseman Jeremy Davies in the right deal.
Five Players To Watch For: F Egor Afanasyev, F Mikael Granlund, D Dan Hamhuis, F Craig Smith, D Yannick Weber
Team Needs
1) Top-Four Defenseman: Despite having one of the best top-four pieces in the NHL before this season started, the Predators knew they here hoping for a lot when they traded P.K. Subban and handing his role to rookie Dante Fabbro. He has had an up-and-down year, but injuries to other members of the top-four, including Ryan Ellis, has forced their third pairing players to move into the top four at times, which has been a disaster, which means the team could really use another top-four blueliner and move Fabbro down a notch on the depth chart. Many feel that New Jersey's Sami Vatanen could be a good fit here.
2) Upgrade In Top-Six: The Predators have two potential unrestricted free agents in Granlund and Smith coming up and with cap considerations, they might be better off packaging them to another team in hopes of getting a forward with term that can help them both this year and in the future.
Photo courtesy of USA Today Sports Images.