Navigating the salary cap is one of the more important tasks for any GM. Teams that can avert total cap chaos by walking the tightrope of inking players to deals that match their value (or compensate for future value without breaking the bank) remain successful. Those that don't see struggles and front office changes.
PHR will look at every NHL team and give a thorough look at their cap situation heading into the 2019-20 season. This will focus more on those players who are integral parts of the roster versus those who may find themselves shuttling between the AHL and NHL. All cap figures are courtesy of CapFriendly.
Toronto Maple Leafs
Current Cap Hit: $95,152,493 (over the $81.5MM Upper Limit)
Entry-Level Contracts
D Travis Dermott (one year, $863K)
F Ilya Mikheyev (one year, $925K)
F Dmytro Timashov (one year, $694K)
D Rasmus Sandin (three years, $894K)
Potential Bonuses
Timashov: $70K
Mikheyev was highly coveted out of the KHL this offseason and should play a regular role on the third line right off the bat.  If he can maintain that role, he'll be in a good position to earn a decent raise on this rookie max although he won't have arbitration eligibility despite turning 25 next week.  Timashov is coming off his top season in the AHL although he wasn't someone that was expected to crack the roster a month ago.  As a waiver-exempt player, expect him to go back and forth between the Maple Leafs and their AHL affiliate for cap savings later in the season and a limited role in the lineup should only have him looking at a small raise.
Dermott locked down a full-time role last year although he starts this season on LTIR.  He's not likely to progress off the third pairing too often given the depth in front of him which will limit his offensive chances and thus, his earning potential for his next deal.  A short-term bridge pact is likely for him next summer.  Sandin impressed with the AHL Marlies in his post-draft season which has helped earn him a roster spot for the time being at least.
One Year Remaining, Non-Entry-Level
D Tyson Barrie ($2.75MM, UFA)*
D Cody Ceci ($4.5MM, UFA)
F David Clarkson ($5.25MM, UFA)
F Frederik Gauthier ($675K, RFA)
D Justin Holl ($675K, UFA)
F Nathan Horton ($5.3MM UFA)
G Michael Hutchinson ($700K, UFA)
D Martin Marincin ($700K, UFA)
D Jake Muzzin ($4MM, UFA)
F Nick Shore ($775K, UFA)
F Jason Spezza ($700K, UFA)
* – Colorado is retaining an additional $2.75MM on Barrie's deal
Horton and Clarkson haven't played for a while and won't play at all this season and will be on LTIR all year long as a result.  Toronto actually re-acquired Clarkson in an effort to maximize their ability to keep their core intact this season by increasing how much LTIR they're allowed to use.  Shore returns after spending last season in the KHL and will play a limited role on the fourth line which means it shouldn't cost much more than this to keep him around next year.  If not, they'll sign someone else for around that amount.  Spezza took quite a cut in pay (from $7.5MM to the league minimum) to play for his hometown team but is also expected to have a limited role.  Like Shore, he'll either be kept at that rate or replaced by someone who will take the minimum.  Gauthier is a regular on the fourth line but his offensive upside is limited and while he's owed a bit of raise simply from his qualifying offer, he shouldn't cost much more than that.
Barrie has been quite productive from the back end in his career and he'll be poised to cash in on that next summer, especially with some of the recent extensions handed out to what were pending UFA defenders.   With their salary commitments for next year already, his price tag may very well be well beyond what they can afford.  Ceci struggled the last couple of years in Ottawa but a more limited role, one that he is better suited to play, could certainly help him rebuild his value.  Otherwise, he shouldn't be looking at much of a raise next summer.  Muzzin was brought in near the trade deadline to stabilize their back end and he fared relatively well.  He's also looking at a raise next summer but it's one that Toronto may be able to absorb if Barrie winds up leaving.  Marincin and Holl have served as depth over the last couple of seasons but they'll need to be retained at the league minimum or replaced by someone else at that rate.
Hutchinson wound up being Toronto's backup in the playoffs and their comfort with him helped him land another contract, albeit at a notable dip in pay.  He hasn't really established himself as a quality backup in the NHL just yet but with the backup goalie market going up in recent years, a good showing this season would really help his market a year from now.
Two Years Remaining
G Frederik Andersen ($5MM, UFA)
F Zach Hyman ($2.25MM, UFA)
F Trevor Moore ($775K, RFA)
Hyman has been a fixture in Toronto's top six over the past couple of years although the offensive numbers aren't quite as high as his linemates.  Nonetheless, if he's around the 40-point mark again over the next couple of years, he'll be in line for a fairly sizable raise on the open market.  Moore is entering his first full season in the NHL but isn't expected to play a big role this year.  As a supporting cast player, his next contract shouldn't be substantially higher than this, nor would that be one that they can afford.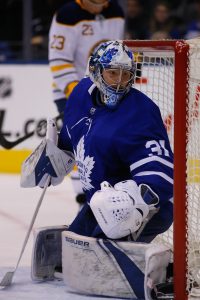 Andersen has worked out quite well for the Maple Leafs after coming over in a trade from Anaheim.  He has established himself as one of the better starting goalies in the league and is doing so at a rate that's well below the going rate for quality number one netminders.  While he may not get the type of money that Carey Price and Sergei Bobrovsky are making ($10MM or more), he should come in relatively close to that.  Finding a way to keep him in the fold will be tricky for Toronto but given his importance to the team, they're certainly going to try and will likely begin extension discussions next summer to see if something can be done.
Three Years Remaining
F Kasperi Kapanen ($3.2MM, RFA)
D Morgan Rielly ($5MM, UFA)
Kapanen's first full NHL season was a strong one as he cracked the 20-goal mark.  Toronto's cap situation basically forced them to pursue a bridge deal but continuing to produce at that rate will have him in good shape for a big raise being a year away from UFA status with arbitration eligibility.  At a time where these deals are back-loaded with big jumps in qualifying offers, Kapanen's is the exact opposite – it's front-loaded with signing bonuses meaning that his qualifier three years from now will only be $840K.
Rielly has turned into quite the bargain and is coming off a season that saw him set career highs across the board while really ascending into their number one role.  Even if his numbers dip a bit from the 72 points he had last season, he looks like a candidate to double his current AAV on his next contract.
Four Or More Years Remaining
F Andreas Johnsson ($3.4MM through 2022-23)
F Alexander Kerfoot ($3.5MM through 2022-23)
F Auston Matthews ($11.634MM through 2023-24)
F Mitch Marner ($10.893MM through 2024-25)
F William Nylander ($6.962MM through 2023-24)
F John Tavares ($11MM through 2024-25)
Matthews really set the tone for this recent crop of RFAs when he landed the second-richest post-entry-level deal in league history and only lost one year of UFA eligibility in the process.  Assuming he progresses as Toronto hopes, he could wind up with a contract larger than Connor McDavid's $12.5MM AAV.  Tavares, their new captain, was the headline unrestricted free agent in 2018 and gives the Maple Leafs an enviable one-two punch down the middle.  By the time his current deal is up, he probably won't be worth this price tag but he should still be able to land a multi-year commitment.  Marner just signed his deal a couple of weeks ago and it was the richest given to a winger exiting his entry-level pact.  Considering that the winger market for unrestricted free agents just hit a new record, Marner could certainly eclipse this price tag if he makes it to the open market.  Nylander took until just before the deadline to sign last season, something that actually gives Toronto a bit of cap savings as his cap hit is more than $500K below the face value of the deal.  With those four, the Maple Leafs now have more than $40MM tied up long-term.  That type of commitment to four players is unprecedented and will play a big role in any moves they make beyond this season.
Kerfoot was brought in alongside Barrie to help replace Nazem Kadri down the middle.  He has been consistent in terms of his production over his first two NHL seasons and if he can sustain that 40-point output, a raise and a top-six role could be on the horizon for him in free agency.  Like Kapanen, Johnsson is coming off his rookie season, one that saw him reach 20 goals.  He had arbitration eligibility but opted not to use it, instead opting for a deal that buys out a UFA year but gave him a big raise over his previous deal which checked in just under $800K.  Similar to Kerfoot, staying at this offensive level should give him a chance at a raise in four years although he doesn't play the premium position.
Buyouts
F Mikhail Grabovski ($1.791MM through 2020-21, cap-exempt as it was a compliance buyout)
Retained Salary Transactions
F Phil Kessel ($1.2MM through 2021-22)
Still To Sign
None
Best Value: Rielly
Worst Value: Ceci
Looking Ahead
While Toronto is in cap compliance for now, there is still some work that will likely need to be done when Hyman and Dermott are activated off LTIR; both are expected back in about three weeks.  Even if they can get back into compliance with them on the active roster, they're likely not going to have much wiggle room to work with so expect frequent recalls and demotions to the AHL to try to bank a bit of space.
Beyond this year, with Horton (and now Clarkson) coming off the books, Toronto won't have LTIR to utilize starting next season so their spending will look a fair bit different.  They will have some tough decisions on the horizon though with their pending UFA defenders next summer, Andersen in 2021, and Reilly in 2022 coming off the books.  Will they be able to keep them and keep their big four intact?  That's the question that GM Kyle Dubas will need to try to determine the answer to and it will make them an intriguing team to follow in the next few years to see how they navigate the salary cap waters.
Photo courtesy of USA Today Sports Images.