Dan Hamhuis is heading back to where it all began. The Nashville Predators have signed the veteran defenseman to a two-year contract worth a total of $2.5MM. Hamhuis ranked 24th on our Top 50 UFA list this offseason which predicted his return to Nashville, though for much more money that he ended up getting. This deal comes in at an incredible bargain for the Predators, given Hamhuis' recent play.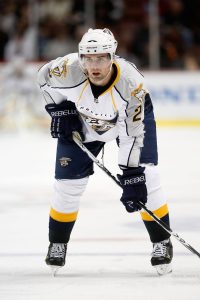 The 35-year old Hamhuis logged more than 20 minutes a night last season for the 13th time in his career, anchoring the shutdown pairing for the Dallas Stars alongside Greg Pateryn. Given almost every tough defensive matchup to allow John Klingberg and others to contribute offensively, Hamhuis still provided the Stars with 24 points on the year. His 2:40 of average short-handed ice time easily led the Stars, and will likely be a role he takes up in Nashville now that he has returned to the place his career began.
Selected 12th overall in 2001, Hamhuis played 483 regular season games for the Predators over six seasons before moving on to the Vancouver Canucks, and was part of a group that continually made the playoffs but couldn't get out of the first round. He was part of a defensive factory that also produced players like Ryan Suter, Shea Weber and Kevin Klein, and will now likely end his career after having come full circle.
Turning 36 this year means there isn't a ton of miles left on Hamhuis, especially after playing more than 1,000 games in the NHL. What he will bring is a excellent experienced and capable option for the Predators third pairing, slotting in at the bottom of what has become an elite group. Alexei Emelin held this role last season for the team but was relatively ineffective when asked to fill in for injuries, something that Hamhuis should be able to do with ease. Behind the likes of P.K. Subban, Roman Josi, Mattias Ekholm and Ryan Ellis, Hamhuis should be able to prey on easier matchups and contribute with his excellent two-way style. The fact that it will cost the team just $1.25MM per season brings almost no risk, especially given his recent play.
The only thing the Predators would have to worry about is potential retirement by Hamhuis next offseason, since this contract was signed after he turned 35. His $1.25MM cap hit will be counted against the Nashville cap regardless of whether he's playing on the team, but with the way they've built their salary structure it shouldn't be a problem. The Predators still have more than $8MM in cap space this season, and though they do have some big contracts coming up—like a Ryan Ellis extension—are still in pretty good shape financially.