One of the smaller notes in Elliotte Friedman's outstanding "31 Thoughts" column this week, surrounds the Washington Capitals' continued search for defensemen. The Capitals lost several players through various means this summer, and when Matt Niskanen went down to a hand injury early in the season the lack of depth started to show. Last night the team had to rely on John Carlson to play more than 27 minutes, while limiting Taylor Chorney, Christian Djoos and Madison Bowey to fewer than 15 each. With no word on how long Niskanen will be out, an upgrade seems inevitable.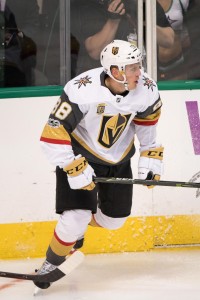 While Kevin Shattenkirk and Karl Alzner left through free agency, it was obviously why Washington had let them go. The team simply didn't have the cap space to fit them in, or likely the desire to give them the term they wanted—remember, the four-year deal Shattenkirk signed in New York was shorter than what he likely would have demanded elsewhere. The most interesting name that is no longer with the team is Nate Schmidt, who was lost in the expansion draft to the Vegas Golden Knights. Schmidt played just 60 games for the Capitals last season, but was the easy choice to replace the outgoing veterans in Washington's top-four. Something Friedman mentioned on NHL Network on Monday night, and now again in the Sportsnet column, is that Washington tried to make a trade at the expansion draft concerning Schmidt and Philipp Grubauer.
While losing Grubauer wouldn't have been a perfect outcome of the expansion draft, replacing a backup goaltender is a lot easier than finding defensive depth. Though Schmidt was a restricted free agent, he ended up signing for just $2.25MM per season and likely could have been fit into the tight Washington cap situation (especially given their willingness to trade Marcus Johansson to clear room).
As Friedman and others have written, while Vegas continues to shop some of their defensemen a market has yet to materialize. It's hard to find takers for players like Jason Garrison and Brayden McNabb when they aren't playing, as teams try to wait out the Golden Knights and snatch someone off waivers. While the Capitals would love to play that game as well, claiming any veteran off waivers is almost impossible for them. As they stand, they're pushed right up to the cap even carrying nine players that earn less than $1MM. Their move will have to come in trade, with salary headed the other way.
Photo courtesy of USA Today Sports Images