Navigating the salary cap is one of the more important tasks for any GM. Teams that can avert total cap chaos by walking the tightrope of inking players to deals that match their value (or compensate for future value without breaking the bank) remain successful. Those that don't see struggles and front office changes.
PHR will look at every NHL team and give a thorough look at their cap situation heading into the 2019-20 season. This will focus more on those players who are integral parts of the roster versus those who may find themselves shuttling between the AHL and NHL. All cap figures are courtesy of CapFriendly.
Nashville Predators
Current Cap Hit: $80,165,476 (under the $81.5MM Upper Limit)
Entry-Level Contracts
D Dante Fabbro (two years, $925K)
F Rem Pitlick (one year, $925K)
F Eeli Tolvanen (two years, $894K)
Potential Bonuses
Tolvanen: $2.85MM
Fabbro: $850K
The team has a few players with entry-level contracts who could make an immediate impact. Fabbro is the obvious one, especially after the team traded away P.K. Subban to New Jersey in a cap-saving move. Fabbro, the team's first-round pick in 2016, finally signed in late March after three seasons at Boston University, playing in four regular season games, followed by six playoff games, combining for one goal and two points in amongst those 10 games. Now with Subban gone, the team has to hope that Fabbro will be ready to immediately take over the open top-four spot in the team's defense. If not the team could have some issues at that spot. The team also inked Pitlick, the team's third-rounder in 2016, after three years at the University of Minnesota. After tallying 47 goals in three years, the team hopes that Pitlick can make his mark on the team immediately.
Tolvanen, who dominated in the KHL at 18 years of age, failed to make the Predators team last year and spent most of his season with the Milwaukee Admirals in the AHL, scoring 15 goals and 35 points in 58 games and will try to force his way into the Predators lineup this year with a good training camp.
One Year Remaining, Non-Entry-Level
F Mikael Granlund ($5.75MM, UFA)
F Craig Smith ($4.25MM, UFA)
D Roman Josi ($4MM, UFA)
D Dan Hamhuis ($1.25MM, UFA)
F Austin Watson ($1.1MM, UFA)
F Rocco Grimaldi ($1MM, UFA)
F Miikka Salomaki ($750K, UFA)
F Daniel Carr ($700K, UFA)
D Matt Irwin ($675K, UFA)
D Yannick Weber ($675K, UFA)
F Frederick Gaudreau ($667K, UFA)
The most well documented story is the Predators' desire to lock up Josi to a long-term deal. The 29-year-old has proven to be an excellent defensive blueliner, but has also shown off quite a bit of offense, putting up 40 or more points for the past six seasons, including a 56-point performance last year. Josi has indicated that he wants to stay in Nashville, but evidently is waiting to see how the restricted free agent market pans out before signing any deal.
With significant cap issues coming up over the next few years, the Predators will have to make key decisions on what they want to do with Granlund and Smith. Nashville acquired Granlund at the trade deadline last year, swapping a younger Kevin Fiala for the 27-year-old, who will be a free agent at the end of the season. Granlund, who scored 47 goals in his two previous seasons, stepped back last year, scoring just 16 goals last season and only one of those in 16 games with Nashville. If Granlund can return to his 25-goal ways, the Predators are likely to find a way to keep him in the future, but another poor season could end their relationship early. Smith is a different situation. He's been a 20-goal scorer for five of his last six seasons, but will be 31 when he signs his next deal. The question is whether the team wants to lock him up when he's on the wrong side of 30.
Most of the other players listed here are depth options, with a number of bottom-pairing forwards and defensemen.
Two Years Remaining
G Pekka Rinne ($5MM, UFA)
F Nick Bonino ($4.1MM, UFA)
G Juuse Saros ($1.5MM, UFA)
D Steven Santini ($1.42MM, RFA)
The next two years could be the final two for Rinne, who will be 38 at that time. The veteran goaltender and Vezina Trophy winner put up another impressive season last year with a 30-19-4 record and a .918 save percentage. He will likely carry the load for the next two years, but Saros, the team's goaltender of the future, will likely see more and more games before taking over as the Predators' No. 1 goaltender in 2021-22. Saros played 31 games last season and while posting a 2.62 GAA, he did sport a .915 save percentage and should eventually get an extension.
Bonino was brought in from Pittsburgh to be the team's third-string center and jumpstart the team's bottom-six. He has done that, but also has found himself dropped down to the fourth line in the meantime and at $4.1MM, that's a lot of money to be paying a bottom-line player. The only long-term hope, is that room is made so that Bonino, who posted 17 goals and 35 points last season, can return to his third-line role eventually.
Three Years Remaining
F Filip Forsberg ($6MM, UFA)
D Mattias Ekholm ($3.75MM, UFA)
F Calle Jarnkrok ($2MM, UFA)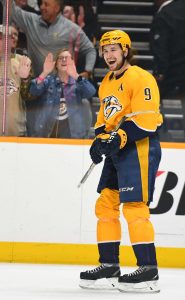 The team has a solid bargain going with Forsberg making just $6MM per season. The Predators have gotten impressive production out of the winger, who posted 28 goals and 50 points last season (surprisingly his worst season of his career so far) and there is still hope that the 25-year-old may take his game up another notch and return to his 30-goal, 60-point mark that he has reached twice in his career or even take his game even further. However, the skilled winger remains an impressive player at a reasonable price for the next three years.
Ekholm may be the biggest bargain of the lot as the 29-year-old is one of the most underrated players in the league, showing off great defensive skill as well as posting 40 points for the first time in his career last year. Ekholm scored eight goals and 44 points last year and at under $4MM, the team has a cheap top-four player for quite a few years to come. Jarnkrok also gives the team a discounted player as the depth winger is a solid value at just $2MM per year.
Four Or More Years Remaining
F Matt Duchene ($8MM through 2025-26)
F Ryan Johansen ($8MM through 2024-25)
D Ryan Ellis ($6.25MM through 2026-27)
F Kyle Turris ($6MM through 2023-24)
F Viktor Arvidsson ($4.25MM through 2023-24)
F Colton Sissons ($2.86MM through 2025-26)
The team had to finally pay out to get themselves the No. 2 center that they desired. They thought they did that a few years ago when the traded for Turris and extended him, but so far that match hasn't been what the team hoped for. However, after moving out Subban, the team had enough cap room to replace him on the roster with their biggest need, which will be filled by Duchene, who should be the perfect top-six center the team has coveted for year. Duchene is coming off a 31-goal, 70-point season and if he can continue to post numbers like that should be a solid value as well at $8MM per year. Turris, on the other hand, now moves down to the third-line center position and the team has high hopes that the 30-year-old will rebound from a seven-goal, 23-point disappointment last year. However, after a solid showing at the World Championships this summer, the team hopes he can rebound.
It's hard to believe that people talk about the Nashville defense constantly, but only one of them is signed longer than three years. However, Ellis signed his long-term deal, which looks like a bargain for the team. The 28-year-old broke 40 points for the first time in his career and with his exceptional defense, is going to be a key member of their blueline for a long time.
Johansen's goals have been down since coming over from Columbus, but he continues to be a dominant passer and put up a career high in assists this year with 50 as well as 64 points, the second-best of his career. The 27-year-old should only get better. Arvidsson is also locked up long-term as the 26-year-old scored a career-high 34 goals last season and has proven to be a top-line winger and even looks like a bargain at $4.25MM. Sissons also was just recently signed to a long-term, seven-year contract at a low price as the team believes he should be part of their bottom-six for a long time.
Buyouts
None
Retained Salary Transactions
None
Still To Sign
None
Best Value: Ekholm
Worst Value: Turris
Looking Ahead
The Nashville Predators have been put together impressively, using their no-tax situation to their advantage as players have made it clear that they want to stay in Nashville. The team has a solid core, but after a disappointing playoffs, the team must prove that they can return to their old dominance, especially in a challenging division like the Central, and continue to be one of the top teams in the league. Adding another top-six center should help and if they can get the most out of their players, the Predators should be a dominant team for years, but if head coach Peter Laviolette can't get some of his players to take the next step in their development, they may be in trouble too.
Photo courtesy of USA Today Sports Images.