With the trade deadline now just hours away, we wrap up our look at the teams in the Central Division.  Where do they stand, what do they need to do, and what assets do they have to fill those needs?  We finish with a look at the Winnipeg Jets.
It has been an interesting year in Winnipeg.  They lost several key defenders over the offseason and then lost Dustin Byfuglien to one of the more bizarre situations we've seen in recent years as he reported, then left the team to ponder his playing future, and then underwent surgery.  Despite that and several injuries up front, the Jets are right in the thick of the playoff race and have already added to their roster recently.  They may not be done just yet.
Record
32-27-5, fourth in the Central Division
Deadline Status
Buyer
Deadline Cap Space
$17.395MM in a full-season cap hit, 0/3 used salary cap retention slots, 47/50 contracts per CapFriendly
Upcoming Draft Picks
2020: WPG 1st, WPG 2nd, WPG 5th, WPG 6th
2021: WPG 1st, WPG 2nd, WPG 3rd*, WPG 5th, WPG 6th
* – If Winnipeg makes the playoffs this season or re-signs Cody Eakin before July 5, 2020, this pick will transfer to Vegas and the Jets will have their 2021 fourth-round pick returned.
Trade Chips
As strange as it seems, the Jets are hoping to find a taker for Byfuglien and have been shopping him in recent weeks over proceeding with the expected contract termination.  A team that wants to have a shot at using him in the playoffs would need to acquire him as if he's not on their roster by the deadline, he would be ineligible to play in the postseason.  But with a $7.6MM AAV for next season, the odds of that happening have to be low.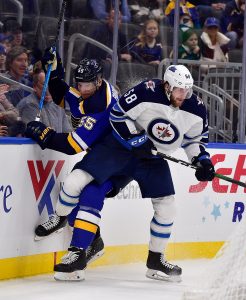 Winnipeg's top picks and prospects are likely off the table but someone that they might be open to moving is Jansen Harkins.  The winger has played in 23 games this season with the Jets but has had a limited role.  He will be a restricted free agent this summer and waiver-eligible next season.  There may be rebuilding teams out there that view him as worthy of a bigger role and this would be the time to try to get him while Winnipeg would bring in someone that can help them more in the short term.  Winger Kristian Vesalainen isn't lighting it up with AHL Manitoba either and while the asking price would be higher on him, it's not impossible that he moves either but it's likely they'd want someone with term coming back.
Injured forward Mathieu Perreault has been in trade speculation for the last couple of years in large part due to his contract which runs through next season with a $4.125MM AAV.  While they don't have to free up any cap room now, moving his deal off the books would really help free things up for next summer.
On the farm, Seth Griffith could be one to watch for.  He has a track record of offensive success in the minors and with their farm team in Manitoba out of playoff contention, he's someone that could move to a team that's looking to load up for a Calder Cup run.  Defenseman Cameron Schilling could be in a similar situation depending on whether or not they add any defensive depth.  Goalie Eric Comrie has bounced around this year but with teams looking for goalie depth, he could be a cheap pickup for someone as well.
Five Players To Watch For: D Dustin Byfuglien, F Seth Griffith, F Jansen Harkins, F Mathieu Perreault, F Kristian Vesalainen
Team Needs
1) Impact Defender: GM Kevin Cheveldayoff has done a good job patching up the back end with Dylan DeMelo joining in-season acquisitions Luca Sbisa and Carl Dahlstrom.  However, none of them are more than depth options and a top-four defender would go a long way towards bolstering Winnipeg's defense core.
2) Secondary Scoring: The Jets already have five players with 21 or more goals this season but it falls off quickly after that.  Bryan Little, one of their top-six forwards, is already out for the rest of the year so there is a vacancy to be filled.  They're in the middle of the pack in both goals against and allowed so if they can't improve their back end, adding some more firepower to round out their attack would be a good way to go.
Photo courtesy of USA Today Sports Images.