Free agency is now just a few days away and there are quite a few prominent players set to hit the open market while many teams have key restricted free agents to re-sign. The Boston Bruins have a several important restricted free agents they will have to focus on as they will have to lock up some of their top young defenders, while they also have a couple useful unrestricted free agents. The question will be whether they are willing to pay up to keep them.
Key Restricted Free Agent: D Charlie McAvoy – With all the talk around the league of high-priced expectations for many of the top restricted free agent forwards around the league, arguably the best restricted free agent defenseman in McAvoy has seemingly flown under the radar. McAvoy has been amazing and has quickly taken over as the future of the Bruins defense, posting 14 goals and 60 points over the past two years with Boston. The 21-year-old has been the perfect offensive addition on the blueline since arriving after two years at Boston University. If there was something that could be holding McAvoy back, it would be his inability to stay healthy as he played just 63 games in his rookie year and then played even less last year in 54 games total. Despite that, the RFA should pick up a big pay raise over the $1.26MM he made last season.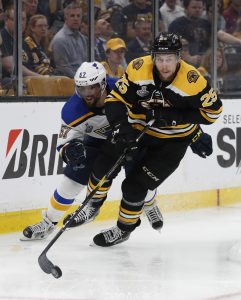 D – Brandon Carlo – In many ways, Carlo is the opposite of McAvoy. The 22-year-old is not known for his offense, but is a defensive player who has needed time to develop and only more recently has he developed into a shutdown defender that Boston had envisioned when they drafted the 6-foot-5 blueliner in the second round back in 2015. While he isn't likely to come anywhere close to the money that McAvoy should receive, Carlo has become a key player on the team's top-four and should only continue to get better.
F – Danton Heinen – One thing the Boston Bruins need are top-six wingers to continue posting the offense they are used to. The question is whether Heinen is that guy for them. After putting up 16 goals and 47 points in his rookie season, many people suspected that Heinen would continue to thrive in that role. Instead, he struggled putting the puck into the net and eventually found himself put on the team's third line as he failed to produce, finishing the season with just 11 goals and 34 points. The question is which player is he? The team must decide that, likely ending up with a short-term deal so that Heinen can prove that he deserves to be paid.
Other RFAs: F Peter Cehlarik, F Ryan Fitzgerald, Jakob Forsbacka Karlsson
Key Unrestricted Free Agents: F Marcus Johansson – The team fared quite well at the trade deadline, acquiring players who truly helped the franchise reach the Stanley Cup this season. One of the key players was Johansson, who had struggled in two seasons with New Jersey, but proved to be a big contributor in the playoffs, putting up four goals and 11 points in 22 playoff games. Unfortunately, his success could have priced himself out of Boston's salary cap plans, but there is hope that both teams could still work out a deal. However, the team may be forced to look elsewhere if the 28-year-old can net himself an impressive offer from another team later this week.
F – Noel Acciari – Six goals and 14 points may not sound like much, but the 27-year-old has become a fixture on Boston's fourth line. While the team could survive without him, Acciari is well known for his hard-hitting style of play and his willingness to sacrifice his body to help the team. In fact, the fourth-liner suffered a broken sternum, yet still played through it throughout the playoffs, something that any team might appreciate. Regardless, the team has made an offer and Acciari opted not to accept it, so the team could end up losing him, although a deal remains possible.
Other UFAs: G Zane McIntyre; F Mark McNeill; F Gemel Smith; F Lee Stempniak; F Jordan Szwarz
Projected Cap Space: The Bruins currently sit a little more than $12MM under the cap ceiling, according to CapFriendly, but still must add McAvoy, which could end up being pricey, while also having to sign Carlo and Heinen. That should take a chunk of that cap space, but the team should still have the ability to sign one of their unrestricted free agents or even find a couple of cheaper options on the unrestricted free agent market on Monday.
Photo courtesy of USA Today Sports Images