Free agency is now just a few days away and there are quite a few prominent players set to hit the open market while many teams have key restricted free agents to re-sign. The Buffalo Sabres, now that they have inked Jeff Skinner to an eight-year, $72MM deal earlier this month, don't have as much to worry about as the team has neither many important restricted or unrestricted free agents they need to worry about.
Key Restricted Free Agent: G Linus Ullmark – The Sabres may not have gotten the season they were hoping for from free agent goaltender Carter Hutton, but they also had high hopes for Ullmark to take t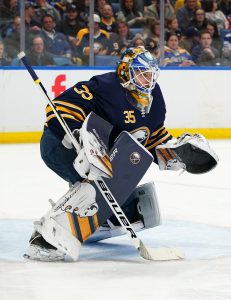 he next step and establish himself as a solid backup to the veteran. However, whether that will be the case is another question. While Ullmark looked early on in the season like the answer as the team's backup, his play started to slip as the year wore on and he struggled especially late in the season, eventually finishing with a 3.11 GAA and a .905 save percentage. However, with no other young goalie particularly close to being ready to challenge him, it's likely the Sabres will give Ullmark another year to develop his body for the long-haul for the season.
F Zemgus Girgensons – While hardly an impact player, the Sabres have been using the 25-year-old as a bottom-line depth option for six years already as he provides the team with some size and grit that the team needs at the bottom of their line-up. While he hasn't broken the 10-goal mark since the 2014-15 season (he scored five last year), he did finish with 144 hits last season, his highest numbers since his rookie season. The question is whether the team sees him as a long-term option as he is one year away from becoming a unrestricted free-agent.
F Evan Rodrigues – The team has like what it has seen from Rodrigues, who signed with Buffalo after four years at Boston University and has since worked his way through the AHL and finally saw a full season in Buffalo this year. While his numbers were quite pedestrian as he finished the year with nine goals and 29 points, he has seen increased playing time and the team hopes he can still provide some middle-six depth for the team, although he should receive a slight raise from the $650K that he made last season.
Other RFAs: F Remi Elie, F Johan Larsson, D Jake McCabe, F C.J. Smith
Key Unrestricted Free Agents: F Jason Pominville – He has played 11 seasons for Buffalo over the course of his career and despite hitting 36 years of age, the team may consider bringing back the veteran as an inexpensive depth option. After all, he posted 16 goals last season, while playing a career-low 12:28 last season. While he certainly wasn't worth the $5.6MM he was making last season, he would be worth a low-cost deal, who could provide the team's youth with a veteran presence.
Other UFAs: F Eric Cornel, F Kyle Criscuolo, D Jack Dougherty, F Taylor Leier, F Sean Malone, D Brycen Martin, F Matt Moulson, F Daniel O'Regan; D Matt Tennyson, G Scott Wedgewood, G Adam Wilcox
Projected Cap Space: The Sabres currently sit a little more than $15MM under the cap ceiling, according to CapFriendly, and should have some cap room to try to find some offense to help out their struggling second line. With the recent addition of defenseman Colin Miller from Vegas, the team should be in good shape with their defense, but the team's biggest problem was putting the puck in the net, which the team hopes that it can improve on with the right roster moves.
Photo courtesy of USA Today Sports Images