Free agency is now less than two weeks away from opening up and there are quite a few prominent players set to hit the open market while many teams have key restricted free agents to re-sign.  Colorado has one of the top restricted free agents in need of a new deal plus quite a few other regulars that have to sign new contracts.  Here's a closer look at their free agent situation.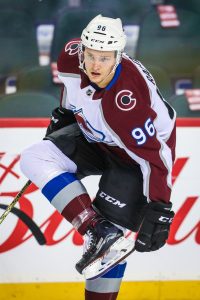 Key Restricted Free Agents: F Mikko Rantanen – Let's get the obvious one out of the way quickly.  Not only is Rantanen Colorado's top restricted free agents in need of a new deal, he is one of the top RFAs available around the league.  After a breakout season in 2017-18, the 22-year-old was even better this past season and was an integral part of one of the most dangerous number one lines in the league.  He has two straight years of high-end production under his belt.  He was dominant in the 2019 postseason.  He's going to get paid even though he doesn't have salary arbitration rights.  Rantanen's next contract will drastically chance Colorado's salary structure as he'll check in considerably higher than Nathan MacKinnon and could have a case to push for upwards of a $10MM AAV this offseason.
F Alexander Kerfoot – The 24-year-old has put up two nearly identical seasons (43 and 42 points) since signing with Colorado back in August of 2017 after opting for free agency instead of signing with New Jersey.  He's not a fixture on the top line for the Avalanche and probably won't be down the road but he has already become an important part of their secondary core.  He has arbitration rights and that type of offensive consistency will help his case should it get to a hearing.
D Nikita Zadorov – The 23-year-old has been someone that has been in plenty of trade speculation over recent years but his combination of size and skill has made it difficult so far for the Avs to part with him.  He took a bit of a step back in 2018-19 which likely complicates their plans that much more.  When he's on, he can be a capable piece on the second pairing but he wound up playing a lesser role than that last year.  His name will probably be up in trade speculation once again while he pushes for a raise on the $2.2MM he made this past season.
Other RFAs: F Sven Andrighetto, D Sergei Boikov, F J.T. Compher, F Sheldon Dries, D Mason Geertsen, D Ryan Graves, F A.J. Greer, F Vladislav Kamenev, D Anton Lindholm, G Spencer Martin, F Julien Nantel, F Dominic Toninato
Key Unrestricted Free Agents: G Semyon Varlamov – Varlamov was Colorado's starter for a good chunk of the regular season but was on the bench when it mattered most in the postseason.  With Philipp Grubauer still in the fold for two more seasons, it's clear that Varlamov will be heading elsewhere.  However, without many opportunities for a starting job, it will be interesting to see what he winds up getting.  Does he take a spot with a team where he could push to be the higher half of a platoon and be content with that for a few years?  Does he take a one-year in the hopes of getting something bigger next summer?  Either way, he's looking at a pay cut from the $5.9MM AAV he's had over the past five seasons.
F Derick Brassard – Some players do well in contract years.  Brassard was one who didn't.  He never did fit in with Pittsburgh, even after a full training camp with them.  He was okay in Florida but that was only a short-term landing spot before he was ultimately flipped to Colorado where he once again struggled.  He's going to have a hard time selling himself as a top-six player after getting just 23 points in 2018-19.  A short-term contract seems to be a probable outcome for him as he hopes to restore some value.
F Colin Wilson – The 29-year-old has never really lived up to his first-round draft billing but he has nonetheless been an effective middle-six forward.  Unfortunately, his production has eroded the last couple of seasons so he's not hitting the open market at the ideal time.  Still, as someone that can play center a pinch and hold down a spot on a third line, he should have a fair bit of interest in free agency but he will also be looking at a drop from his $4MM salary over the past three seasons.
Other UFAs: F Andrew Agozzino, F Gabriel Bourque, F Max McCormick, D Patrik Nemeth, F Scott Kosmachuk, D David Warsofsky
Projected Cap Space: While their RFAs won't be cheap, the Avalanche enter the offseason with over $35MM in cap room, per CapFriendly.  That means that they will have plenty of room to work with if they decide to spend on the open market or add an impact player via trade this summer.  GM Joe Sakic has said he intends to be aggressive this offseason and he has lots of cap space to use to his advantage.
Photo courtesy of USA Today Sports Images.