Free agency is now just a few days away and there are quite a few prominent players set to hit the open market while many teams have key restricted free agents to re-sign. Toronto has already locked up a few important names, but still has plenty of work to do before knowing what next season's roster will look like. Here's a closer look at their free agent situation.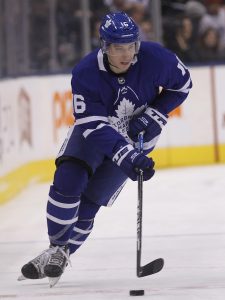 Key Restricted Free Agent: F Mitch Marner — If this article had been written yesterday this section would have included the likes of Kasperi Kapanen and Andreas Johnsson, but it always all came down to Marner. The entire Maple Leafs' offseason is revolving around him at the moment, with the uncertainty of when Toronto will sign his next contract. That is of course if it's signed at all by the Maple Leafs, as offer sheet speculation has never been as high as it seems to be regarding the 22-year old star. A huge part of that speculation is the market he plays in, but Marner is reportedly seeking a huge raise that would make him one of the (if not the) highest paid wingers in the league.
There's good reason for Marner to believe in himself and his abilities. The undersized forward dominated the OHL before and after the Maple Leafs selected him fourth overall in 2015, and he began his NHL career without missing a step. 61 points his first season, 69 his second and a whopping 94 points in 2018-19 made him one of the most lethal offensive weapons in the game, even if that last jump was at least in part due to the addition of John Tavares. Not only is Marner an incredible playmaker, but he also took on a penalty killing role with the Maple Leafs this season and became one of head coach Mike Babcock's most trusted defensive forwards.
None of the reports and rumors from either side mean much to GM Kyle Dubas and Marner's agent Darren Ferris, who need to work out a deal at some point if the Maple Leafs are going to proceed with the rest of their offseason. The team currently has just $6.9MM in cap space but can exceed the limit during the offseason or move Nathan Horton to long-term injured reserve. That still doesn't leave much room for free agent additions because, as Dubas told Chris Johnston of Sportsnet today, they "have got to save space for Mitch."
Other RFAs: F Michael Carcone
Key Unrestricted Free Agents: D Jake Gardiner — If the Maple Leafs had more cap space there is no doubt that they would be trying to keep Gardiner in town, given the state of their defense corps without him. Even though he's not the right-handed option they so desperately need, his depature—and the potential trade of Nikita Zaitsev—could leave them with just three proven NHL options in the whole organization in Morgan Rielly, Jake Muzzin and Travis Dermott. That's a horrendous position to be in, even if it is with several months remaining before the start of the year. Gardiner though will likely be priced out of the Maple Leafs' range given his history as a top puck-moving option. Though he is derided by many for the occasional what-was-he-thinking giveaway, Gardiner has amassed 245 points in his 551 game career including a career-high of 52 in 2017-18. An excellent offensive catalyst at even-strength, he'll likely earn himself quite the payday on July 1.
D Ron Hainsey — The other big departure from the Maple Leafs blue line is Hainsey, even if he did turn 38 in late March. His agent confirmed that he will continue playing as long as there is interest, and after a +30 season playing alongside Rielly on the top pairing there won't be any shortage of teams calling. Hainsey is not the offensive player he once was—remember that years ago he was an excellent powerplay quarterback—but he can still contribute and log big minutes in almost every situation. A favorite of Babcock, he could sign a bonus-laden deal if teams aren't willing to give him a second year.
F Tyler Ennis — Perhaps overlooked for the Maple Leafs this year because of their star-studded forward group, Ennis took a minimum salary contract in order to try and build his value back up and he did it wonderfully. Even fighting through an injury that limited him to 51 games, the undersized forward scored 12 goals from the fourth line and showed he can still play at the NHL level. A three-time 20-goal scorer, the 29-year old Ennis should secure another NHL deal to provide a little scoring depth at a relatively inexpensive price—but probably one the Maple Leafs can't afford.
Other UFAs: D Igor Ozhiganov, D Martin Marincin, F Gabriel Gagne, F Chris Mueller, F Nicholas Baptiste, D Vincent LoVerde, D Jordan Subban, D Steven Oleksy, G Eamon McAdam
Projected Cap Space: The Maple Leafs currently sit a little more than $6.94MM under the cap ceiling according to CapFriendly, but can also put Horton's $5.3MM deal on long-term injured reserve if necessary to give them some more flexibility. That number is only including the cap hits for 18 players however, meaning they actually have even less than that once they decide who will be making the roster.
Photo courtesy of USA Today Sports Images