Free agency is now just a few days away from opening up and there are quite a few prominent players set to hit the open market while many teams have key restricted free agents to re-sign.  Tampa Bay has already made moves to clear some salary off their books but have several RFAs needing new deals.  Here's a closer look at their free agent situation.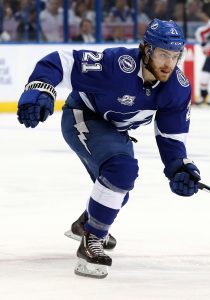 Key Restricted Free Agents: F Brayden Point — For Tampa Bay, the entire offseason comes down to Point and his next deal after he exploded for 41 goals and 92 points in 2019-20. The undersized forward has worked his tail off since dropping to the third round in 2014 and is now one of the best two-way centers in the league. While teammates Nikita Kucherov and Steven Stamkos may get more national coverage, Point's impact on the Lightning is irreplaceable and he'll be looking for a huge raise coming off an entry-level contract that saw him record 198 points in 229 games. There is optimism that a deal will eventually get done between the two sides, but Point is in a group of restricted free agents around the league that are all waiting to see each other's contracts.
F Cedric Paquette — While Point is the straw that stirs the drink this offseason, Paquette shouldn't be overlooked. The 25-year old center provides a physical, grinding presence that the team may be lacking now that J.T. Miller and Ryan Callahan are gone and even scored 13 goals in limited minutes last season. A good faceoff man and key penalty killer, his 269 hits would be difficult to replace if the team was forced to go in another direction.
Other RFAs: F Adam Erne, F Danick Martel, F Carter Verhaeghe, D Ben Thomas, D Dominik Masin
Key Unrestricted Free Agents: D Anton Stralman — Easily the biggest loss through free agency this summer for the Lightning will be Stralman, who has been the epitome of consistency for the last five seasons. The veteran defenseman has provided a stable, stay-at-home option on the right side for some of the more offensive Lightning defenders and has eaten up minutes on a nightly basis. He dealt with injury this season that limited him to just 47 games, but he heads into the offseason as one of the top free agent options remaining on the blue line. If Tampa Bay wanted to bring him back they'd need to find some extra cap space, as even at 32 he should command a multi-year contract.
D Dan Girardi — The same might not be true for Girardi, who is set to sign his next contract after his 35th birthday. That designation comes with added risk for teams, but performing decently enough in a reduced role for Tampa Bay there will still be someone who gives him the chance if he wants it. Girardi recorded 16 points in 62 games for the Lightning but was still a key penalty killer and trailed only Ryan McDonagh in blocked shots.
Other UFAs: F Andy Andreoff, F Mitch Hults, F Gabriel Dumont, F Kevin Lynch
Projected Cap Space: The Lightning currently sit a little more than $10.6MM under the $81.5MM ceiling according to CapFriendly, but can also place Callahan's $5.8MM hit on long-term injured reserve if necessary. LTIR designations are a little more complicated than just "free cap space" however, and with Point's deal expected to add a huge chunk of salary the Lightning don't have a ton of room for free agent shopping—just don't tell them that.
Photo courtesy of USA Today Sports Images