With the trade deadline fast approaching, we will be taking a closer look at the situation for each team over the coming weeks.  Where do they stand, what do they need to do, and what assets do they have to fill those needs? Next up is a look at the Colorado Avalanche.
The Colorado looked to be clearly the third best team in the Central Division until recently, but the team has struggled in December and even more so in January with a record of 7-14-3. However, despite that, the team has 52 points, tied with Dallas and is right in the mix for a playoff spot. However, despite their top line and team's surrounding success over the past couple of seasons, the team is continuing build their team and remains a young squad. The team has the Ottawa Senators' first-round pick in 2019 which could provide them with a superstar prospect and general manager Joe Sakic has made it clear the team isn't going to trade away future assets to add temporary help for this team.
Record
22-20-8, fifth in the Central Division
Deadline Status
Moderate Buyer
Deadline Cap Space
$58.142MM in a full-season cap hit, 0/3 used salary cap retention slots, 47/50 contracts per CapFriendly
Upcoming Draft Picks
2019: OTT 1st, COL 1st, COL 2nd, OTT 3rd, COL 3rd, COL 5th, COL 6th, COL 7th
2020: COL 1st, COL 2nd, COL 3rd, COL 4th, COL 5th, COL 6th, COL 7th
Trade Chips
It's actually hard picturing the Avalanche selling anything from their team as well, but they do have some assets they could move in the right deal. While the team might never consider to move Ottawa's No. 1 pick, they might be more open to moving their own first-round pick, which would likely be late lottery to mid-level first-rounder.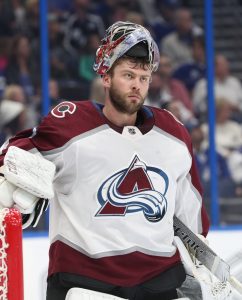 However, among current assets, the team could consider moving some of their unrestricted free agents like Colin Wilson and Patrik Nemeth, two players who the team must decide whether they intend to keep them after this season. The team also is likely to lose starting goaltender Semyon Varlamov in the offseason after picking up Philipp Grubauer, so the team could consider sending Varlamov off to a team in need of a rental starter, although it's far more likely the team will keep Varlamov for the remainder of the year in hopes of pushing for a playoff spot.
Five Players To Watch For: F Sven Andrighetto, D Patrik Nemeth, G Semyon Varlamov, F Colin Wilson, D Nikita Zadorov
Team Needs
1) Secondary Scoring: The team's top line of Nathan MacKinnon, Mikko Rantanen and Gabriel Landeskog has been impressive all year, but the team needs to build up their second line and has received little help from any of the players they have put there other than Carl Soderberg, who was meant to be more of a third-line player. Prospect Tyson Jost was sent to the AHL to work on his game, while many of their other young talents like J.T. Compher and Alexander Kerfoot haven't shown enough consistency so far. The team could use a solid impact player that can be the offensive focus of the second line. Whether the team is willing to pay for that at this point in the team's development is another question.
2) More young talent: One thing that Sakic has done over the past few years is he has avoided handing out too many bad contracts with the possible exception of defenseman Erik Johnson's seven-year, $42MM contract he signed back in 2015. In fact, the one given to MacKinnon seems like a bargain at $6.3MM for another four years after this one. While the team will have to lock up Rantanen this summer, the team has an awful lot of cap space they could use to bring in future assets. They did this last summer when they took on the contract of Brooks Orpik and was able to bring in Grubauer to help the team in goal. They could be that team that helps some of those cap-challenged teams to bring in more picks or young players to further invest in Colorado's long-term development.
Photo courtesy of USA Today Sports Images.