The Minnesota Wild have dealt with injuries all throughout their lineup to start the season, and have felt it in their record of 4-3-2. On Saturday they found their defensive game against the reigning Stanley Cup Champions, beating the Pittsburgh Penguins 2-1. Now, they'll be getting back one of the best two-way forwards in the league to help give them even more punch at both ends of the rink.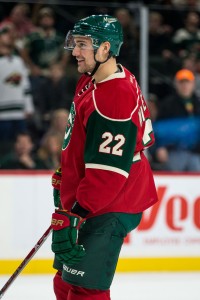 Nino Niederreiter has been activated from injured reserve, and is expected to play against the Winnipeg Jets tonight. Accruing some Selke votes last season, Niederreiter was one of the Wild's best forwards for the entire season, scoring 25 goals and 57 points in 82 games. His possession numbers are outstanding, and he easily led the team in hits.
Getting him back, especially while Charlie Coyle and Zach Parise remain injured, will be a huge boost to the Wild's forward group. In the game against Pittsburgh, they were forced to rely on the top line for 20 minutes of ice time, limiting their bottom group. Niederreiter allows them to lengthen out that lineup and play some of their younger forwards in a more sheltered role.
Photo courtesy of USA Today Sports Images