Navigating the Salary Cap is probably one of the more important tasks for any general manager to have. Teams that can avert total cap chaos by walking the tightrope of inking players to deals that match their value (or compensate for future value without breaking the bank) remain successful. Those that don't see struggles and front office changes.
PHR will look at every NHL team and give a thorough look at their cap situation heading into the 2018-19 season. This will focus more on those players who are integral parts of the roster versus those who may find themselves shuttling between the AHL and NHL. All cap figures are courtesy of CapFriendly.
Current Cap Hit: $67,318,095 (under the $79.5MM Upper Limit)
Entry-Level Contracts
F Alexander Kerfoot (one year, $925K)
F Dominic Toninato (one year, $925K)
F J.T. Compher (one year, $925K)
F Mikko Rantanen (one year, $894K)
F Tyson Jost (two years, $886K)
F Vladislav Kamenev (one year, $833K)
F A.J. Greer (one year, $741K)
D Samuel Girard (two years, $728K)
D Anton Lindholm (one year, $718K)
Potential Bonuses:
Rantanen: $850K
Jost: $850K
Kerfoot: $213K
Girard: $183K
Lindholm: $183K
Compher: $100K
Greer: $75K
Total: $2.47MM
For a successful team that made it into the playoffs and gave the Nashville Predators a run for their money, it's a bit surprising that the team got quite a bit of contributions from entry-level players, with Rantanen probably at the top of the list of contributors. After a 20-goal season in his first full season on the team, the 21-year-old took that next step and benefitted from playing with Nathan MacKinnon on the first line, breaking out with a 29-goal, 84-point season. With the top line expected to return this season, don't be surprised if the winger puts up another big season right before he becomes a restricted free agent and could get rewarded with a long-term contract.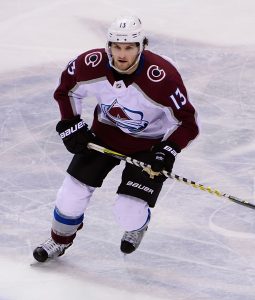 The team expects similar success from Kerfoot, who arrived in Colorado as a four-year college free agent from Harvard University. The 24-year-old posted a 19-goal, 43-point rookie campaign last year as a member of the team's third line and now is expected to move up a notch and battle Jost for the second-line center position, with the loser moving to right wing on the same line. Jost, scored 12 goals last season in his rookie season, but the 2016 first-rounder is expected to break out if he can earn a spot on that second line as well. Both are likely to have promising seasons.
The 23-year-old Compher is another young talent who will be given every chance to fight for a spot as the left wing on the second line. In his first full season, Compher posted 13 goals and could be in line for a bigger season next year. The team also has high expectations for Girard on the defense. One of the key pieces of the Matt Duchene trade, the then 19-year-old defenseman was able to stay in the NHL, averaging 17:39 ATOI once he was traded from Nashville and posted 20 points in his rookie season and should be able to improve on that as he will likely assume a top-four role already next season.
One interesting prospect is Kamenev, who also came over with Girard in the Duchene deal, but the 22-year-old center was injured one game into his Colorado career, and he missed most of the season. Now healthy, Kamenev has a good chance to earn a role on the team's third line in hopes of putting up good numbers next year. Toninato may also be an interesting addition as he has a chance to pick up the fourth-line center spot after signing last season out of the University of Minnesota-Duluth.
One Year Remaining, Non-Entry-Level
G Semyon Varlamov ($5.9MM, UFA)
F Colin Wilson ($3.94MM, UFA)
D Patrik Nemeth ($2.5MM, UFA)
D Nikita Zadorov ($2.15MM, RFA)
F Sven Andrighetto ($1.4MM, RFA)
F Gabriel Bourque ($950K, UFA)
With cap room at a premium, general manager Joe Sakic had the opportunity to use that to his advantage as he was able to acquire the bloated contract of Brooks Orpik from Washington to acquire their future goaltender in Grubauer, who has posted two straight seasons of .923 save percentages or higher. The Capitals' backup goalie looks ready for a chance to take a starting role and while he might split time with Varlamov early on, the team's hopes is that Grubauer steals the job away from him. Varlamov and his $5.9MM contract is set to expire next year, meaning the Avalanche are likely going to allow him to walk.
The team has a pair of defensive players in Zadorov and Nemeth, who will be fighting for contract extensions next season. Zadorov has been a key defensive player for the team, posting 278 hits as well as blocking 106 shots. He even posted a career high in both goals (7) and points (20). Nemeth came over to Colorado from Dallas and immediately jumped into the rotation and led the team with a plus-27 rating and was crucial to the team's penalty kill and likely will take a third-pairing role once again.
Wilson could be pushed down to the team's third line or provide a veteran presence on the second line depending if one of the youngsters fails to impress in camp. However, the 28-year-old is coming off of one of his worst-ever seasons as he posted just six goals and 18 points last season. Andrighetto will be another youngster who should get some time in the team's bottom-six.
Two Years Remaining
D Tyson Barrie ($5.5MM, UFA)
F Carl Soderberg ($4.75MM, UFA)
F Matthew Nieto ($1.98MM, UFA)
D Mark Barberio ($1.45MM, UFA)
D Mark Alt ($725K, UFA)
The 27-year-old took that next step for the Avalanche, putting up career numbers in both goals and points as he posted 14 goals and 57 points last season as he's proven to be a No. 1 defenseman that the franchise really needs. The team must find a way to lock him up to an extension in July next year.
Soderberg doesn't post big offensive numbers, but is viewed as a critical shutdown defender, who the Avalanche put up against other teams' top players. The 32-year-old did put up 16 goals and 37 points last year, but his main responsibility is to center the team's third line. Nieto will likely end up there with him, who also produced at a career-high as he posted a 15-goal season last year.
Three Years Remaining
F Gabriel Landeskog ($5.57MM, UFA)
D Ian Cole ($4.25MM, UFA)
G Philipp Grubauer ($3.33MM, UFA)
F Matt Calvert ($2.85MM, UFA)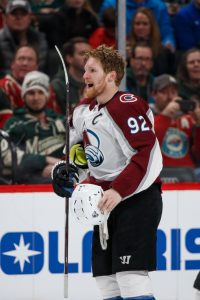 Landeskog has become an integral part of the Avalance's top line as he posted numbers that are comparable to his best seasons of his career as he posted 25 goals and 62 points. The 25-year-old has added excellent balance to that top line since the team moved on from Duchene. The second-overall pick in 2011 might be able to start meeting the high expectations of his draft status if the chemistry between Rantanen and MacKinnon continue.
Cole, Grubauer and Calvert were all recent additions this offseason with Grubauer having already been discussed. However, the team hopes to get some solid value out of both Cole and Calvert at their respective positions. Cole should provide veteran depth to developing defense and if he plays well enough could beat out Girard or Zadorov for a top-four spot, but is more likely to settle into a third-line pairing. Calvert should be able to provide third or fourth-line depth since his lack of offensive skills would likely prevent him from earning a second-line role.
Four Or More Years Remaining
F Nathan MacKinnon ($6.3MM through 2022-23)
D Erik Johnson ($6MM through 2022-23)
The amazing thing is that Colorado only has two players locked up long-term and considering that MacKinnon was one of the top vote-getters for the Hart Trophy last season after the 23-year-old posted 39 goals and 97 points, the team has a steal of a deal with him. With the rising salaries of star players, the fact that Colorado has MacKinnon locked up for five more years at just $6.3MM only makes their situation better and should allow the team to add even more talent over the next couple of years.
The team also has five more years of Johnson at $6MM, which isn't as good. While Johnson is a solid defensive defenseman, the 30-year-old is injury-prone and hasn't been able to play 80 games just once in his 10 NHL seasons. He managed nine goals and 25 points in 62 games last season and still remains the team's second-best defenseman.
Buyouts
D Brooks Orpik ($2.5MM in 2018-19; $1.5MM in 2019-20)
Retained Salary Transactions
None
Still To Sign
None
Best Value: MacKinnon
Worst Value: Johnson
(Excluding entry-level contracts)
Looking Ahead
The Avalanche is a young team that just a year ago many considered to be one of the worst in the NHL. Thanks to the superb play of many of their young players, the team should be in good hands. Colorado has plenty of cap space to handle long-term deals that will need to be given to their many youngsters with Rantanen the most likely to be handed a long-term extension and the team may even have the ability to go after a big-name free agent in a year or two if they continue to improve and show they are the most intriguing team in the Central Division.
Photo courtesy of USA Today Sports Images.