With the trade deadline now less than a week away, we continue our closer look at the situation for each team.  Where do they stand, what do they need to do, and what assets do they have to fill those needs?  Next up is a look at the St. Louis Blues.
It has been a bit of surprising season in St. Louis.  They've had several key injuries and have had their original backup goaltender take over as the starter but they haven't really missed a beat.  As a result, they will be looking to add to their roster in the coming days but will face some challenges along the way.
Record
34-23-4, third in Central Division
Deadline Status
Buyer
Deadline Cap Space
$1.1MM full-season cap hit (including LTIR), 0/3 retained salary transactions, 43/50 contracts per CapFriendly
Draft Picks
2018: STL 2nd, STL 3rd, STL 4th, STL 5th, STL 6th, STL 7th
2019: STL 1st, STL 2nd, STL 3rd, STL 5th, STL 6th, STL 7th
As part of the Brayden Schenn trade back in June, if the Blues' 2018 first-round pick is a top-ten selection, they have the option to defer transferring the selection to the Flyers until 2019.
Trade Chips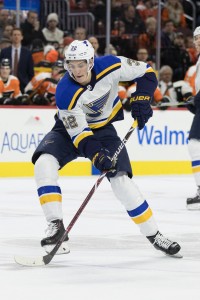 As a result of some strong drafting in recent years, St. Louis has an enviable stable of prospects in their system, particularly up front.  Junior players Robert Thomas and Jordan Kyrou are believed to be coveted by several teams while first-year AHL players Tage Thompson and Klim Kostin will also attract plenty of attention.  However, GM Doug Armstrong has already ruled out dealing his top prospects for rentals (and would like to avoid that market altogether) which suggests a rightful hesitance to move these players no matter how much other teams want them.  Of this group, Thompson may be the likeliest to be dealt if the Blues do make a big move as him being near NHL ready will be of interest to several teams.
Because of their very limited cap room, St. Louis will need to match salaries or come very close to doing so to fit any acquisitions under the cap.  Accordingly, there are several veterans that could become cap casualties in the days to come.  Center Patrik Berglund has been discussed with Ottawa in talks already while blueliner Carl Gunnarsson, who has been on the outside looking in several times this season, is a strong candidate to go if the Blues are looking to add payroll.
Five Players To Watch For: C Patrik Berglund, D Carl Gunnarsson, W Dmitrij Jaskin, D Jordan Schmaltz, W/C Tage Thompson
Team Needs
1) Defensive Depth: The Blues will be without Joel Edmundson until mid-March at the earliest with a broken arm while Petteri Lindbohm, one of their depth defenders, is done for the season.  Even Schmaltz, who will draw some interest as well, has been out since being injured in January.  Any further injuries on the back end will really start to test their depth so it wouldn't be shocking to see Armstrong pursue one of the depth defenders that are out there or at least look to acquire an AHL blueliner.
2) Scoring Winger: This has been a need they've been looking to address pretty much all season but salary cap constraints have really prevented them from doing so.  They've been linked to Montreal's Max Pacioretty and Ottawa's Mike Hoffman, players that would certainly give them a boost inside their top-six but would also cost a considerable amount to acquire.  If those teams aren't willing to take a similar amount of money back to match contracts, Armstrong may have to set his sights on a middle-six option instead, one that wouldn't cost a top prospect to bring in.
Photo courtesy of USA Today Sports Images.