Sunday: The buyout is official, and Nichushkin is now an unrestricted free agent.
Saturday: Last summer, winger Valeri Nichushkin was a key part of the offseason additions for the Stars.  Now, he's on his way out the door.  Fox Sports Midwest's Andy Strickland reports (Twitter link) that Dallas will be placing him on unconditional waivers for the purposes of buying out the final year of his contract.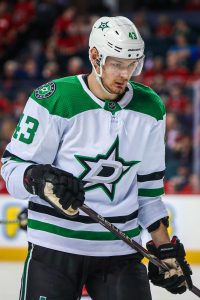 Nichushkin had a rough year in 2018-19 to put it lightly.  He failed to score a single goal in 57 regular season games and went from seeing a bit of time in the top six to a depth role to basically out of the lineup altogether.  In their postseason run, he suited up just once in 13 games.  Needless to say, he didn't come close to living up to the expectations of his two-year, $5.9MM contract.
As he is just 25, the cost of buying out Nichushkin is considerably cheaper than the standard cost.  Instead of Dallas needing to pay two-thirds of the contract over two times the remaining term, they only have to pay one-third over that same term.  As a result, the payout will be as follows:
2019-20: $700K
2020-21: $450K
As a result of this move, Dallas will save $2.25MM on the salary cap for next season which will up their payroll room to a little under $12.5MM.  With only a pair of depth restricted free agents to re-sign in defenseman Julius Honka and center Jason Dickinson, the Stars are poised to be an impact team in free agency next week.
Meanwhile, it will be interesting to see what the future holds for Nichushkin.  He now enters the open market as one of the younger free agents available and while his 2018-19 campaign was one to forget, he has had some success in the past with Dallas in his first stint with the team before he went back to the KHL.  There should be a fair bit of interest in his services from teams thinking that a change of scenery can rejuvenate him but at the same time, there should be a lot of interest from the KHL as well.  Either way, he's an intriguing late addition to this free agent class.
Photo courtesy of USA Today Sports Images.