The Colorado Avalanche have added another interesting forward to their group for this season, signing Valeri Nichushkin to a one-year, one-way contract worth $850K. Nischushkin was bought out by the Dallas Stars this offseason after failing to score a single goal in 2018-19.
Even after reaching the second round of the playoffs last season, the Avalanche have continued to overhaul their forward group by adding names like Andre Burakovsky, Nazem Kadri, Joonas Donskoi, Pierre-Edouard Bellemare and now Nichushkin. We profiled the 24-year old Russian just yesterday, expecting him to have to settle for a professional tryout after such a disappointing season. Despite playing in 57 games with the Stars, Nichushkin was almost completely absent on the scoresheet. He recorded zero goals and zero penalty minutes, while adding just ten assists.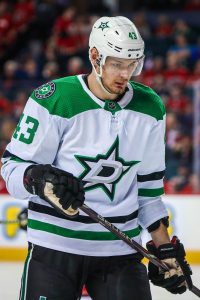 There was a time that Nichushkin was one of the most exciting young players in the world. Selected 10th overall in 2013—the same draft that saw Nathan MacKinnon go first overall to the Avalanche—the big, speedy forward quickly made an impact at the NHL Level. Coming straight from the KHL to the Stars lineup, he recorded 14 goals and 34 points in 2013-14. Unfortunately he suffered a hip injury that kept him out for nearly the entire 2014-15 season and put his career on a much different trajectory.
In 2016 Nichushkin returned to Russia and the KHL where he played two seasons with CSKA Moscow. His game never seemed to take that next step, and last season after his return the Stars would quickly realize that the two-year, $5.9MM deal they had signed him to might be a mistake. Because of his relative youth however, his buyout will only pay him $900K over the next two years, but cleared a good chunk of his cap hit off the books for Dallas.
Even if Nichushkin never becomes that top-end forward many believed he could, there is still value to squeeze out of him for the Avalanche. At $850K all he has to be is a complementary player that can add a bit of offense to the bottom-six while still providing some versatility and experience. Perhaps he will even take a step forward and become a key part of their group.
Amazingly, the team is actually buying more control than just one season for their $850K. Nichushkin will once again be a restricted free agent next summer, and will not be arbitration eligible.
Photo courtesy of USA Today Sports Images