2017 was quite a busy year in the hockey world. There was been several big trades, the first expansion team in over 15 years, and much more. Over the last month, PHR has taken a look back at the top stories from around the game on a month-by-month basis. You can find the first 11 installments here: January, February, March, April, May, June, July, August, September, October, November. Last up on the list will be December to remember.
Russian Involvement: In an expected but still shocking decision, the International Olympic Committee announced that Russia would be banned from competition at the upcoming Pyeongchang Olympic Games as punishment for their previous doping at the 2014 Games. Any clean athlete that is able to pass stringent testing will be allowed to compete under the "Olympic Athlete from Russia" logo, meaning Team OAR will likely be skating in the hockey tournament.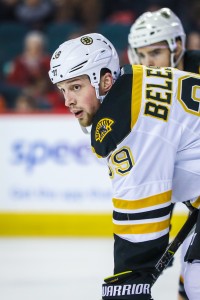 Veterans Buried: December brought the point at which teams could no longer wait for improved production from their struggling veterans. Several were waived and sent to the minors, including Matt Beleskey of the Boston Bruins and Matt Moulson of the Buffalo Sabres. That pair will earn a combined $9MM this season, but will have to ply their trades in the minor leagues for the time being.
Franchise Futures: Three different cities saw received early Christmas presents, as huge announcements were made by Seattle, Carolina and New York. The Islanders were approved for their new home at Belmont Park, the Hurricanes sold a majority stake to an excited new owner, and Seattle was given the green-light on their arena project and potential expansion. All three are positive steps for the league, and healthy steps for each market.
Salary Cap Increase: Though nothing is official just yet, there were wide reports that the 2018-19 salary cap ceiling will sit somewhere between $78-82MM. That's good news for the clubs pushing the limit, and means solid growth of league revenues overall. The potential issues will arise for those struggling to reach the cap floor, and will likely result in more dead money being swapped around the league.
Karlsson-Watch: Just ahead of an exciting event for the Ottawa Senators, owner Eugene Melnyk sounded off on the struggling team and potential cuts to player salaries in the future. That put the spotlight on Erik Karlsson, who had recently discussed his upcoming free agency and the fact he wouldn't be taking a "hometown discount" (which makes sense since Karlsson is from Landsbro, Sweden, not Ottawa, Canada). Karlsson is a free agent in the summer of 2019 and will be the target of rumors no matter how many times GM Pierre Dorion says he won't deal him.
Photo courtesy of USA Today Sports Images