2017 has been quite a busy year in the hockey world. There have been several big trades, the first expansion team in over 15 years, and much more. Over the coming days, PHR will take a look back at the top stories from around the game on a month-by-month basis. Next up is a look at May.
Playoff Injuries Abound: As teams continued their chase of the Stanley Cup, their bodies began to break down. As each subsequent round was completed, and teams were eliminated from the playoffs, reports of surgery and rehab surfaced daily. Players like Patrice Bergeron, Tuukka Rask, Jason Zucker, Andrej Sekera and Ryan Johansen all went under the knife in May, with the Anaheim Ducks perhaps announcing the worst of the bunch. Hampus Lindholm and Sami Vatanen would both require shoulder surgery, not only putting the start of their 2017-18 seasons in jeopardy but complicating the expansion process for the Ducks. A seemingly inevitable Vatanen trade was put on hold until just recently, when he was sent to the New Jersey Devils for Adam Henrique.
Toronto Bolsters Blueline: The Toronto Maple Leafs had some depth issues on their blueline in 2016-17, when Morgan Rielly was forced to log big minutes despite suffering from a high-ankle sprain for much of the season. They decided to add to that depth when they signed both Calle Rosen and Andreas Borgman out of the SHL, and locked up a key newcomer long-term. Nikita Zaitsev officially signed his seven-year, $31.5MM extension on May 2nd, ensuring he'd be part of the core for some time.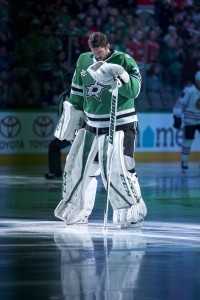 Big Ben In Big D: The Dallas Stars, coming off an extremely disappointing season, decided that something had to be done about their goaltending duo of Kari Lehtonen and Antti Niemi. The Stars went out and traded for Ben Bishop, almost immediately signing him to a six-year, $29.5MM contract. Because Bishop was set to become an unrestricted free agent and was coming off one of his worst seasons in the NHL, he cost the Stars just a fourth-round pick. An improvement in Bishop's play was one of the keys we identified recently for a potential Stars turnaround, after which he immediately posted a 24-save shutout against the Chicago Blackhawks.
Buffalo Gets Botterill: After canning their coach and GM the previous month, the Buffalo Sabres announced that Jason Botterill, formerly an assistant GM with the Pittsburgh Penguins, would be the new man to captain their ship. Botterill had some interim GM experience with Pittsburgh, but had never truly been the head man before and had a tough task ahead of him in Buffalo. The Sabres are once again one of the worst teams in the NHL, but have their star locked up long-term and several blue chip prospects on their way.
Vadim, Las Vegas: On May 4th, 2017 the Vadim Shipachyov era in Vegas officially began when the team announced a two-year, $9MM contract for the Russian star. Shipachyov was just the second player to sign with the Golden Knights, and was immediately penciled into their first line. Unfortunately, the rest of 2017 would not go as smoothly. Shipachyov was first left off the NHL roster to begin the season, and would eventually terminate his contract with Vegas in order to return to the KHL. He scored one goal during his brief NHL career, and has spoken quite candidly about the disappointing situation.
Photo courtesy of USA Today Sports Images