2017 has been quite a busy year in the hockey world.  There have been several big trades, the first expansion team in over 15 years, and much more.  Over the coming days, PHR will take a look back at the top stories from around the game on a month-by-month basis.  We begin with a look back at January.
Greiss Re-Ups With The Islanders: After Thomas Greiss took over the starting job with the Islanders, the team didn't waste much time by locking him up to a three-year, $10MM extension.  The deal more than doubled his cap hit from last season ($1.5MM) while it's the longest NHL contract he had ever signed.  Unfortunately for the Isles, Greiss has yet to reward them for that extra job security.  He has gotten off to a really rough start to his season, posting a 3.83 GAA and a .883 SV% through 18 appearances.  If New York wants to move up in the Metropolitan, they'll need him to rebound considerably.
Wickenheiser Retires: One of the pioneers of women's hockey called it a career as Hayley Wickenheiser announced her retirement.  She won five Olympic medals and 13 more at the World Championships.  Wickenheiser also famously signed with a men's team in Finland in 2003 while also spending time in a Swedish men's league, becoming the first female player to do so.  She will undoubtedly be a sure-fire Hall-of-Famer after being a generational talent and an inspiration for many female hockey players around the world.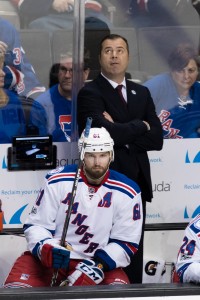 Vigneault Signs Two-Year Extension: Rangers head coach Alain Vigneault has been no stranger to speculation regarding his future in New York.  However, the team signed him to a two-year extension that commences following the 2017-18 season.  The recent trend of head coaches signing for significantly more money continued with this contract as not only will he receive $8.25MM over the two years, his original salary for $2MM in 2017-18 was doubled as well.  Vigneault currently ranks third in franchise history in wins for a head coach and if he lasts for the full duration of the contract, he should be comfortably in second place.
Capuano Fired: After spending 482 games behind the bench, the Islanders fired Jack Capuano with the team sitting dead last in the Eastern Conference.  Capuano had been the fourth longest-tenured coach in the league before being let go while he ranks second on the team in all-time games coached.  Doug Weight took over on an interim basis and New York made an improbable second-half push for a playoff spot, ultimately falling short by one point.  Unsurprisingly, the Isles lifted the interim tag off Weight in the offseason, installing him as the full-time bench boss.
Four Years For Smith: In the midst of what would turn out to be his second straight season with at least 15 goals, the Senators inked center Zack Smith to a four-year, $13MM extension to avoid him hitting the open market as an unrestricted free agent.  Smith has improved from being a physical fourth liner to someone that Ottawa has come to rely on for consistent secondary production over the years.  However, he has struggled to produce so far this season, scoring just twice in 24 games despite averaging a career-high 16:34 in ice time.
Photo courtesy of USA Today Sports Images.