The Anaheim Ducks have swung a massive trade with the New Jersey Devils, dealing Sami Vatanen and a conditional third-round draft pick for Adam Henrique, Joseph Blandisi and a 2018 third-round pick. The deal immediately addresses the Ducks' need at center, while Vatanen adds a huge piece to the Devils' blueline. There is no salary retained by either side.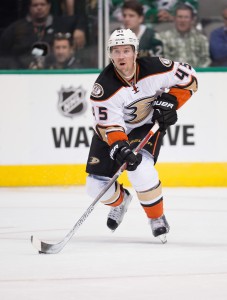 The conditions on the pick are as follows:
If Anaheim signs Henrique to an extension prior to the 2019 draft, Anaheim will transfer their 2019 third-round pick.
If Anaheim signs Henrique to an extension after the 2019 draft, Anaheim will transfer their 2020 third-round pick.
If Anaheim does not sign Henrique to an extension before he becomes a free agent on July 1, 2019, no pick will be transferred.
This deal comes as an unexpected end to a long-standing expectation that Vatanen would eventually be moved out of Anaheim, as the Ducks are flush with defenders and had a hole up front. With injuries to Ryan Kesler and Ryan Getzlaf the center depth was tested this season, and was a clear spot for upgrade. Henrique is a versatile forward who can play both center and wing, giving the Ducks options once everyone is healthy.
The 27-year old forward is signed through next season at a $4MM cap hit, but is actually owed $5MM this season and $5.5MM in 2018-19. His relatively back-loaded contract allows the Ducks to acquire Blandisi as well without adding any  cap to their books, as Vatanen carried a $4.875MM hit through 2019-20.
Interestingly, Vatanen's partial no-trade clause was set to kick in next summer but as CapFriendly points out the Devils now actually have the option to void it. While teams generally try to honor the contract details given out by former employers, it could be in New Jersey's best interest to get rid of that clause. Vatanen is an extremely valuable trade piece (as seen today) and could be flipped if the Devils aren't competing quite as quickly as the early season has shown.
The 26-year old Vatanen will immediately fill a role with the Devils as a primary puck-mover, something he's excelled at over his career. Along with Damon Severson, the team's right-side now looks formidable as they try to return to the playoffs just a year after winning the draft lottery and picking first overall.
In Anaheim, Vatanen was an expendable piece because of the immediate impact Brandon Montour has made and the depth of their defensive pipeline. Though Shea Theodore was sacrificed in the expansion process, the Ducks still have Jaccob Larsson and Josh Mahura among other young prospects, not to mention Cam Fowler and Hampus Lindholm already leading the team.
Blandisi, 23, is not to be overlooked in the deal. Another potential center for the Ducks, the sixth-round pick has turned into quite the offensive player over the last few years. He exploded as an over-aged junior player in 2014-15 by scoring 52 goals and 112 points for the Barrie Colts, and has carried that skill over to the professional ranks. In 68 NHL games over the last two seasons he has 26 points, though he had been stuck in the minors this year.
Amazingly, the Devils were able to part with two talented forwards because of the emergence of other options up front. Nico Hischier and Jesper Bratt have both made immediate impacts, allowing the team to move on from some of their old guard. With Taylor Hall once again playing to his superstar status, the team has more than enough firepower up front even without Henrique.
Photo courtesy of USA Today Sports Images