After a report earlier today that negotiations had heated up, Cam Atkinson has signed a seven-year $41.125MM ($5.875MM AAV) contract extension with the Columbus Blue Jackets. Atkinson was set to become an unrestricted free agent at the end of the season, and had been rumored to be looking at an average salary of $6MM. That would make this deal seem like a bit of a bargain for Columbus, especially given his importance to the team.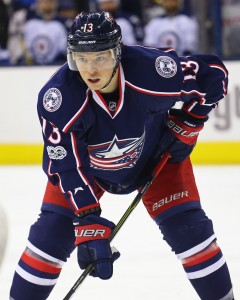 Atkinson, 28, has flourished with the Blue Jackets since becoming an NHL regular, with four straight 20-goal seasons including a career-high of 35 last year. The diminutive forward has climbed all the way from the sixth-round of the NHL Entry Draft to star status in the league, finding great offensive success at every step along the way. In 397 career games Atkinson has 233 points which already ranks him fourth all-time in Blue Jackets history. His 125 goals for the club put him behind only Rick Nash on the Columbus career leaderboard.
The easy comparable for this contract will be the one T.J. Oshie signed this summer, when he re-upped with the Washington Capitals for a similar salary. Oshie's deal is one year longer, but similarly locks him up longer than the team probably wanted in order to keep the cap hit down. Atkinson will be 29 when the deal kicks in, meaning the team is paying him through his age-35 season. It's unlikely he'll keep up the same pace for that long, but paying $5.875MM for a potential 30-goal scorer will allow Columbus to keep most of the rest of their core together.
While Atkinson has just six points so far this year, it's not just his offensive production that makes him so valuable. Blue Jackets head coach John Tortorella uses Atkinson in all situations including the penalty kill, and he's averaging more than 19 minutes per night this season. Though Columbus' powerplay hasn't gotten out of the starting blocks yet this season, if it does start clicking you can bet Atkinson will be in the middle of it. Last season he recorded 21 points with the man advantage, trailing only Alexander Wennberg in that category.
Amazingly, the new deal puts Atkinson as just the third-highest paid player on the club behind Artemi Panarin and Sergei Bobrovsky and will allow them to do more to keep their club together in the next few years. Over the next two offseasons, Columbus has decisions to make and new contracts to sign with a dozen or so huge parts of their team, including players like Zach Werenski, Ryan Murray and Bobrovsky. Getting Atkinson locked in for a reasonable amount lets them know exactly what they have to work with, and where they need to shave salary.
This is another one of the big names to come off next summer's UFA list, with several more to come before the end of the year. Even though all eyes are still on John Tavares as the head of that group, players like Atkinson, Evander Kane and James van Riemsdyk help fill out what looks right now to be quite the impressive offensive class. We'll have to wait and see just who remains on July 1st.
Aaron Portzline of The Athletic broke the news of the extension, though originally had it down as a slightly lower salary.
Photo courtesy of USA Today Sports Images