The Buffalo Sabres announced that veteran forward Matt Moulson will be placed on waivers today, for the purpose of assignment to the AHL. Moulson has been held scoreless this season through 14 games, and has struggled to get into the lineup on a consistent basis.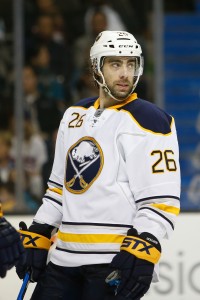 Moulson, 34, carries a $5MM cap hit for this year and next in the final two seasons of his $25MM deal. His career with Buffalo has been anything but productive, as he continually underperformed after coming over from the New York Islanders. Early in the 2013-14 season, the Sabres acquired Moulson (along with two high draft picks) in exchange for Thomas Vanek and then flipped him later in the season to Minnesota for another package of picks and prospects.
Just a few months later, Moulson re-signed with the Sabres when Buffalo offered him a five-year $25MM contract. He was expected to bring some of his goal scoring talent—he'd previously scored 30+ in three separate seasons—but ended up quickly falling down the forward depth chart. Now in the fourth season of that contract, Moulson has just 35 goals and 94 points in 253 games while basically skating as a fourth-liner for the past three years.
By sending him to Rochester if he clears waivers, the Sabres will save (a prorated) $1.025MM in cap space, but will have to pay out his full $5MM salary. Next season, he's owed just $3MM in actual salary but would be a potential buyout candidate once again. It's unlikely that he will be claimed, as his cap hit is too restrictive for what he brings to the team.
Photo courtesy of USA Today Sports Images