The Calgary Flames have officially signed Jaromir Jagr to a one-year contract worth $1MM, with potential bonuses up to an additional $1MM for games played. Not only will suiting up for the entire season earn him extra cash, but the 45-year old legend is just 56 games shy of Gordie Howe's all-time record of 1,767 NHL games. If healthy, he's expected to break that this season.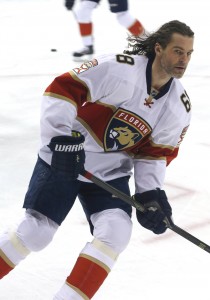 $1+1MM is a relatively small amount for a player who is still capable of contributing offensively. Jagr has always been a possession monster, able to protect the puck incredibly well with his big frame and distribute pucks from behind the net. His goal total of 16 last year, though disappointing, was due in large part to a career-worst shooting percentage that is almost sure to rebound.
Signing Jagr likely means a reduction of minutes for Troy Brouwer, who was largely disappointing after signing a big contract in free agency. Brouwer came over from the St. Louis Blues on a four-year, $18MM contract but registered the lowest point total of his career. With Micheal Ferland expected to take on a much bigger role with the top unit, and Jagr likely being slotted in on the right side of the third line, Brouwer will be relegated to fourth-line duties most nights.
The Flames have had an impressive offseason, addressing goaltending and defensive issues by bringing in Mike Smith, Eddie Lack and Travis Hamonic. Beyond that, the team can still expect some progression for young forwards Sean Monahan, Sam Bennett and Matthew Tkachuk. If they continue to play to their potential, Jagr could be a piece that helps them get over the top. His value both five on five and with the man advantage will be a big upgrade for Calgary, though there are still downsides to his play.
The biggest knock against Jagr is the speed at which he plays the game. No longer able to beat defenders with his skating ability, he nonetheless can create chances off the rush with skill alone. The apparent lack of defensive ability is usually counteracted by the down-low possession style he and linemates play, keeping the puck nearly 200 feet from their own net on most shifts. The Flames currently have more than $3.6MM in cap space, which would leave them able to make a move in-season should they find themselves in competition for the Stanley Cup.
Photo courtesy of USA Today Sports Images