The Dallas Stars have acquired Ben Bishop from the Los Angeles Kings in exchange for a fourth-round pick. Bishop is a pending unrestricted free agent and is still not under contract for next season. The pick originally belonged to Montreal, and was acquired by the Stars in the Jordie Benn deal from earlier this year.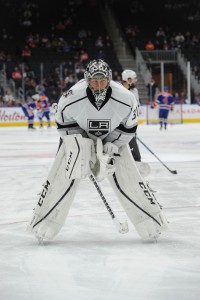 After being dealt mid-season from Tampa Bay to Los Angeles, Bishop is heading into free agency coming off just 39 games played and a .910 save percentage. Neither of these numbers show the lofty heights that Bishop is capable of, as prior to this season he received Vezina votes two out of the last three years. If Dallas could get him signed, he'd easily become the best goaltender in town, even if it is a quite crowded crease.
The Stars already have Kari Lehtonen and Antti Niemi under contract for next season at a combined cap-hit of $10.4MM, meaning at least one goaltender will have to be either bought out or traded before the start of the season. The pair put up very substandard goaltending this season, a big reason why the Stars dropped right out of the playoff picture just a year removed from leading the Western Conference.
Bishop represents a potential huge upgrade in the crease, but doesn't come without his own warts. He'll turn 31 this season and has a lot of leverage now that Scott Darling has been taken off the market. Bishop would hit free agency as the clear #1 available goaltender even after his down year, and likely demand a contract in excess of $5MM per season on a multi-year deal. If he were to repeat the season he had this year the Stars would be in exactly the same situation but with a longer term deal on their hands.
In the end though, the Stars had to do something to improve the situation as they start a new era under a familiar face. Ken Hitchcock is back behind the bench and the team will be expected to have some immediate success as they continue through the primes of Jamie Benn and Tyler Seguin. The latter is only under contract for two more seasons, after which he could legitimately bolt for a cup contender if there isn't any improvement on the ice in Dallas.
For Los Angeles, they recoup some of the value they sent to Tampa Bay at the deadline and move Bishop out before he left for nothing. Helene Elliott of the Los Angeles Times reports that former Kings GM Dean Lombardi had been interested in keeping Bishop, though that would have been difficult considering Jonathan Quick is firmly entrenched as the starter. The team will now look around at other backup options for next season, including Jack Campbell a former Stars' prospect that has had a renaissance of sorts with Ontario of the AHL.
Multiple reports have the two sides ready to start talking contracts over the next few days, though they haven't actually discussed anything yet. Had Bishop hit the open market, Dallas would likely have been an attractive landing spot given their recent success and lack of goaltending competition—despite the big salaries. John Shannon of Sportsnet seems to confirm this, reporting that Bishop told the Kings that he preferred certain teams including Dallas. If they can get a deal done, the biggest losers of this deal may be much further north as both Calgary and Winnipeg (among others) would have likely had interest in the 6'7″ netminder. Unfortunately Calgary was on his no-trade list, though that doesn't necessarily mean he wouldn't have been interested. They'll now have to look elsewhere to find an upgrade in net, and with options dwindling in free agency, perhaps it will have to be through trade.
Mike Heika of the Dallas Morning News was first to hear about the deal.
Photo courtesy of USA Today Sports Images