The Hockey Hall of Fame has announced their 2017 class, that includes both players and builders. Teemu Selanne, Paul Kariya, Dave Andreychuk, Mark Recchi and Danielle Goyette form the player class, while Clare Drake and Jeremy Jacobs are heading in as builders.
Selanne was on the ballot for the first time, and was an absolute lock for induction. With 1,457 points in 1,451 games, Selanne ranks 15th all-time in scoring and is arguably the greatest Finnish-born player ever to play in the NHL. Right from the start, with his record-setting 76 goal rookie campaign the "Finnish Flash" was a dominant presence in the league able to out-skate and out-shoot almost anyone in the league. Even at age 36 he was a dominant player, scoring 48 goals and 94 points and leading the league in game-winning goals. One of only 19 men to score more than 600 goals in the NHL, Selanne lit the lamp 684 times and sits just outside the top-10. Always considered just as good of a person off the ice as he was a player on it, his impact along with Kariya on the Anaheim Ducks (of both the plain and Mighty variety) has been immeasurable.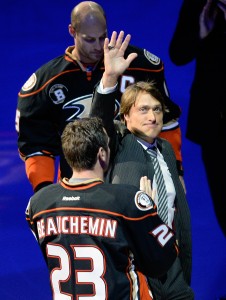 In a perfect touch, Kariya will go in alongside his long-time friend and teammate. The two put the Mighty Ducks of Anaheim on the map in the 90s, and later signed to play together in Colorado. Though his career was affected by concussion issues and ended when he was 35, Kariya goes down as one of the most determined skaters of all-time. Blessed with incredible skill, Kariya never stopped working and would create chances out of nothing just with his tenacity. While he's waited for some time to see his name in the Hall of Fame, it is well deserved. With 989 career points (in 989 games), he ranks 87th all-time but is one of a very select group to record a point-per-game (h/t James Mirtle of The Athletic) since he entered the league.
Andreychuk is another that has had to wait quite some time, but will ride his 640 career goals and 1,338 points right into the Hall. An incredible net presence, capable of finding pucks and immediately depositing them behind goalies, Andreychuk scored more than 40 goals four times in his career and ranks 14th all-time. A captain of the Tampa Bay Lightning to finish his career, Andreychuk would finally win the Stanley Cup at age 40. His legacy is remembered fondly in several different cities, but perhaps best in Buffalo where he formed one of the greatest lines in NHL history with Pat LaFontaine and Alexander Mogilny for a brief time.
Recchi has a similar story, lasting into his forties and logging some of the greatest offensive numbers of all-time. With 1,533 points, Recchi ranks 12th on the career list and won three Stanley Cups with three different teams. Though he did have some incredible years at the beginning of his career, Recchi is a testament to consistency and adaptability. Able to fill several different roles throughout his career, he was always among his team leaders in points and logged huge minutes in a two-way role. One of the greatest fourth-round picks of all time, Recchi had an impact in many different cities around the league including both Philadelphia and Pittsburgh. Two different stints in both cities are sure to create some arguments over which franchise he belongs two, while Montreal and Boston each have their own claims.
Goyette is the latest from the outstanding Canadian women's group that was so dominant on the international stage for so long. The sniping winger took home three Olympic golds, an Olympic silver and eight World Championship golds during her illustrious career with Team Canada, and has been the head coach at the University of Calgary—where amazingly she coached former teammate Haley Wickenheiser—for the past decade. Her influence on Canadian women's hockey is almost unmatched.