The Winnipeg Jets have announced a seven-year, $42MM extension for forward Nikolaj Ehlers. Ehlers is entering the final year of his entry-level contract, and will see his average annual salary jump to $6MM per season starting in 2018-19. That number will make him the second-highest paid forward on the Jets, behind just Mark Scheifele who earns $6.125MM per season.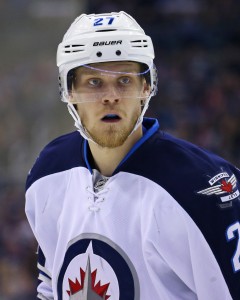 Ehlers was selected ninth-overall by the Jets in 2014, and after another outstanding year in the QMJHL—he scored 132 points in just 65 games—jumped right to the NHL and never looked back. Last year as a sophomore he found chemistry with Scheifele and Patrik Laine as one of the best lines in the NHL (when they were together) and registered 64 points. The impressive part is Ehlers looks to have even more offensive upside, and going into the season as a 21-year old there are high expectations.
Interestingly, this $6MM price tag is quite reasonable for a player so young and dynamic. He'll instantly be compared to the other big names from the 2014 draft, including Leon Draisaitl ($8.5MM per season), Aaron Ekblad ($7.5MM) and David Pastrnak ($6.67MM) all who outpace him easily in terms of salary. While Ehlers may not have quite the career-highs of Draisaitl and Pastrnak at this point, he is certainly capable of keeping up with them offensively. This will also have an impact on a couple of other 2014 picks in William Nylander and Dylan Larkin, both of whom are in their final ELC years and will be looking for big raises at some point.
Still, for the Jets this fits nicely into their salary structure. Earlier this offseason they extended Bryan Little for six years at a reasonable number but they still have plenty of big contracts to come. Laine will be eligible for an extension next summer, and Jacob Trouba will be a restricted free agent for the second time. Trouba held out the first time looking for a better role on the team, but has since proved that he should be treated as a top-tier defenseman in the league. Things might get tight, but even with a first line that can compete with nearly anyone in the league, they're generally paying below market value.
For Ehlers, this is a strong vote of confidence in his ability going forward. The Jets have obviously liked what they've seen since taking him so high, and why not. Two of the players taken ahead of him haven't even made the NHL, while no one taken after (minus Pastrnak) has scored more. The Jets, while still waiting for that first franchise playoff win—they were swept in the first round both appearances—are clearly an up-and-coming team that will be hard to deal with in the coming years. If they can fix a goaltending issue that has plagued them since their days in Atlanta, perhaps this is the year they take a run. If not, they still have a lengthy run watching Scheifele, Laine and Ehlers light up opponents (even if it does happen on different lines at times).
Jamie Thomas of JetsTV was first to break the news.
Photo courtesy of USA Today Sports Images