Thursday: The Stars have made it official, naming Hitchcock as head coach. He has a multi-year deal that will transition into a consulting role thereafter.
Wednesday: After firing Lindy Ruff just a few days ago, the Dallas Stars have acted quickly, and according to multiple reports (including Tim Cowlishaw of ESPN) are set to hire Ken Hitchcock as their next head coach. The Stars are coming off a dreadful season that saw them finish with just a 34-37-11 record, a 30 point fall from their division leading 2015-16 season.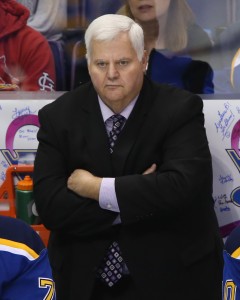 Hitchcock of course was fired from his latest job mid-season, when the St. Louis Blues let him go early and installed Mike Yeo as the bench boss. At the time Hitchcock was said to be considering retirement, though many around the league doubted that he would ever be able to stay away from the game should an opportunity present itself. Well, now one has in one of his old stomping grounds. The eventual hall-of-fame coach spent the first seven seasons of his coaching career in Dallas, winning a Stanley Cup in 1999 and returning to the Western Conference Finals the following year. His team finished first in the division five straight seasons, and only had a losing record in his first year.
Hitchcock is known for his bristly nature with players, but also for some unconventional tactics that often pay dividends. He is currently number four on the all-time coaching list, and will surpass Al Arbour for third with just two wins next year. His .606 career winning percentage also ranks among the leaders.
The Stars will have to do more than just change coaches in order to climb back up the standings, but this at least provides them with a picture of what the team's leadership will look like before they start working on the roster. Goaltending is still one of the biggest issues in Dallas, as they ranked last in save percentage despite paying over $10MM to the duo of Kari Lehtonen and Antti Niemi. Each will become an unrestricted free agent after next year, so Hitchcock and the Stars will need to prepare for the next chapter in net.
Hitchcock has been regarded as something of a defensive coach in the past, introducing systems that limit high quality shot attempts. It will be interesting to see whether this group can accomplish those systems, as they don't have the established defensive core that some of his previous teams did. What they do have, is a young group that can grow under his tutelage and perhaps change the "high-flying" reputation.
Photo courtesy of USA Today Sports Images