The Capitals have locked up one of their core players for the long haul, announcing the re-signing of restricted free agent center Evgeny Kuznetsov to an eight year, $62.4MM contract ($7.8MM AAV).  Isabelle Khurshudyan of the Washington Post adds (Twitter link) that the deal contains a modified no-trade clause in the final six years of the contract; he is ineligible to receive one in the first two due to his age.
Kuznetsov has spent the past four seasons with Washington and was a first round pick (26th overall) of the team back in 2010.  GM Brian MacLellan had the following to say about the 25 year old in a team release:
"Evgeny is a premier center in the NHL and we are pleased that he will remain in Washington for at least the next eight years. It is difficult to find a player of his caliber, who is in his prime and makes his teammates better. Evgeny plays with a tremendous skill, speed and tenacity needed to win in the NHL."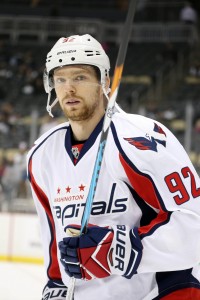 Last season, Kuznetsov saw his production dip a little although he still posted a solid 19 goals and 40 assists while playing in all 82 games for the second straight season.  He followed that up with a strong postseason effort, collecting five points and five helpers in 13 playoff contests.  That came off the heels of a career year in 2015-16 where he posted 77 points (20-57-77), a career high.
The deal makes Kuznetsov the second highest paid player on the team, only behind captain Alex Ovechkin.  Nicklas Backstrom is their top pivot and plays ahead of Kuznetsov but he still has three years left on his deal with a cap hit of $6.7MM.
MacLellan will have plenty of work to do to stay under the $75MM salary cap.  They currently have $4.6MM in cap space per CapFriendly and only have 15 players under contract.  Among their notable restricted free agents that still need to be re-signed are winger Andre Burakovsky and goaltender Phillip Grubauer.
Mike Vogl of the Capitals' team website reports that the contract breaks down as follows:
2017-18: $5MM salary, $5MM signing bonus
2018-19: $5MM salary, $5MM signing bonus
2019-20: $3.4MM salary, $5MM signing bonus
2020-21: $3MM salary, $2MM signing bonus
2021-22: $3MM salary, $5MM signing bonus
2022-23: $3MM salary, $2MM signing bonus
2023-24: $6MM salary, $2MM signing bonus
2024-25: $6MM salary, $2MM signing bonus
Photo courtesy of USA Today Sports Images.