The press conference was set for noon, but the Vegas Golden Knights just couldn't wait. They've announced Gerard Gallant as the first head coach in the history of the franchise. The team has been rumored for weeks to be considering Gallant, after his premature exit from the Florida Panthers organization earlier this year. In the press release, General Manager George McPhee explains the decision.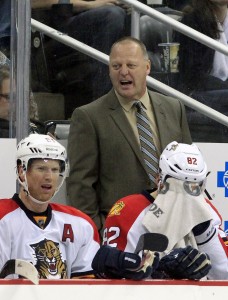 We are proud to announce Gerard as the first head coach in Vegas Golden Knights history. He is an experienced head coach, has had success at multiple levels and has a great reputation amongst the players who have played for him.

We undertook a very detailed due diligence process over the last several months and canvassed a number of qualified head coaching candidates to ensure we found the best coach for our group. And we believe we have found that coach in Gerard.

We look forward to working with him to build a team that our fans and our community are proud to support.
One of the most well-respected coaches in the league, Gallant's firing was taken as a personal attack against the coaching fraternity after he had been a Jack Adams finalist the year prior. He has experience at the head coaching level with both Columbus and Florida, while he also served as an assistant for the Islanders and Canadiens. Perhaps his most success came with the Saint John Sea Dogs of the QMJHL where he won back-to-back league championships and took home the Memorial Cup in 2011. That team actually included several potential targets for the Golden Knights this summer, like Stanislav Galiev (who was drafted by McPhee), Eric Gelinas, Tomas Jurco and Simon Despres (should he return to health).
With Ken Hitchcock set to return to Dallas after a brief retirement, it was reported that Gallant, Jack Capuano and perhaps Dale Hunter were considered for the Vegas opening. The team has gotten their man now, and definitely found a big presence to shepherd their team into the league. There will be many young players on the squad next season, and he'll need to let them grow naturally in what will likely be a difficult first year.
Around the league, there are still vacancies in Vancouver, Florida and Los Angeles after each has let their coach go since the end of the year. With Gallant now off the board, perhaps some of these teams will make their final decision. Darryl Sutter, Willie Desjardins and Jack Capuano remain jobless, and will have to battle younger coaches for the openings.
Gallant will now have time to work with McPhee and AGM Kelly McCrimmon to finalize a plan for the upcoming expansion draft, deciding what kind of team they plan on putting together for the first season of Vegas hockey. One thing is for sure, whichever players they do select will know who's boss.
Photo courtesy of USA Today Sports Images