After being rumored for weeks, the Toronto Maple Leafs have officially announced a seven-year, $31.5MM extension for defenseman Nikita Zaitsev. The deal will see Zaitsev earn an equal $4.5MM per season through 2023-24, though $11MM of it comes in the form of signing bonuses. It also includes a limited no-trade clause which comes into effect in the summer of 2019, giving Zaitsev 10 teams that he can block trades to.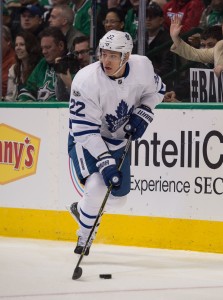 For the Maple Leafs, locking up Zaitsev was an immediate concern after his excellent rookie season. The KHL had threatened to hand him big money to return, and with the NHL's decision to avoid the Olympics the possibility of him leaving had to be on the minds of Lou Lamoriello and company in the Maple Leafs front office. Zaitsev has made it clear from the beginning though that he wanted to stay in Toronto, and has now been rewarded with a huge deal.
The 25-year old transitioned exceptionally to the NHL, registering 36 points while leading the Maple Leafs in ice-time and playing in all 82 regular season games. A concussion sustained in the final regular season match held him out for part of the first round but he would return in game 3 and record at least 20 minutes in each of his four matches.
While seven years may seem like a few too many, it was likely needed to keep the annual salary down. The Maple Leafs were expected to keep any defenseman's salary below that of Morgan Rielly, who last summer signed a six-year extension that sees him earn $5MM per season. Zaitsev will now slot in below that, but ahead of Jake Gardiner who has two years left at $4.05MM.
The Leafs now have six NHL defenders under contract for next season, but likely will try to upgrade that group instead of handing the bottom pairing to Alexey Marchenko and Martin Marincin. The team does have a few defensive prospects, but none of Rinat Valiev, Andrew Nielsen or Travis Dermott seem ready to take on a full-time role.
The team does have money to spend during the season, due to the expected LTIR statuses of Nathan Horton and Joffrey Lupul, but that won't help them in the offseason. The team has to be cap-compliant as of the start of the year, and now has around $12-15MM (depending on where exactly the cap lands) to bring in a backup goaltender and come to terms on new deals with Zach Hyman and Connor Brown. After that, defense will be the first priority with players like Kevin Shattenkirk and Karl Alzner being possible (though unlikely) targets in free agency.
David Alter of The Athletic was first to provide the details of the contract. 
Photo courtesy of USA Today Sports Images